A Brush with Life - Issue #13 Step Into The Landscape
What is it like to step into our physical world rather than observe it? What is different? These are questions that occupy me almost daily. Partly, this is because when I step into my physical world there is limited language to express what I am experiencing. When I am fully immersed in natural surr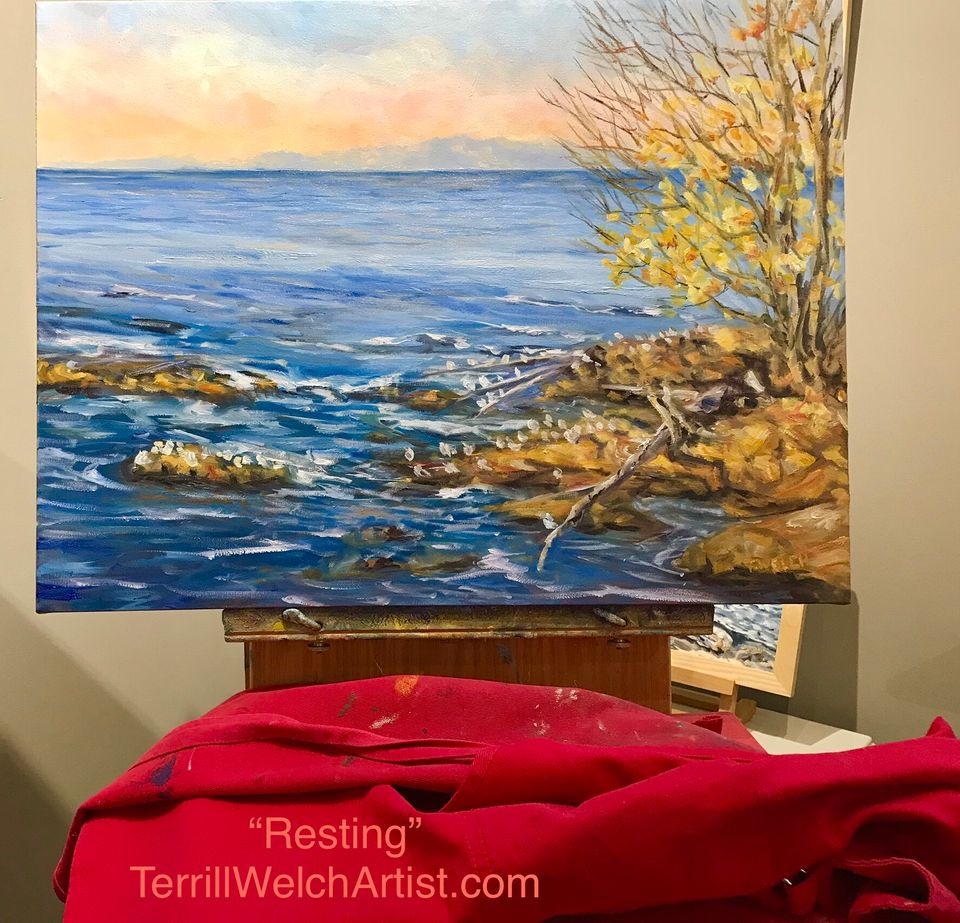 What is it like to step into our physical world rather than observe it? What is different? These are questions that occupy me almost daily. Partly, this is because when I step into my physical world there is limited language to express what I am experiencing. When I am fully immersed in natural surroundings, nothing is linear or ordered in that flat way of evidence, reason or logic. Rather, there is this vaporizing complexity of appearing and disappearing sensations that lose their magnificence as they are translated from my wholistic being to my brain. This is the place of painting. Words are optional when one finds themselves within the landscape, paintbrush in hand.
---
Wait a Mayne Island moment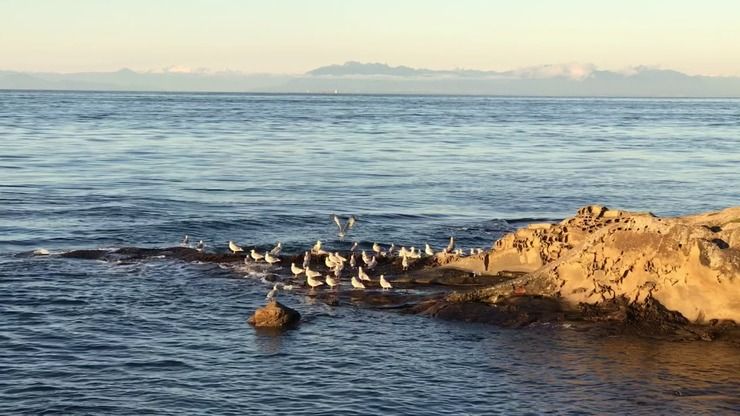 Catching the evening light down by the sea at Georgina Point.
And a new painting in-progress on the easel...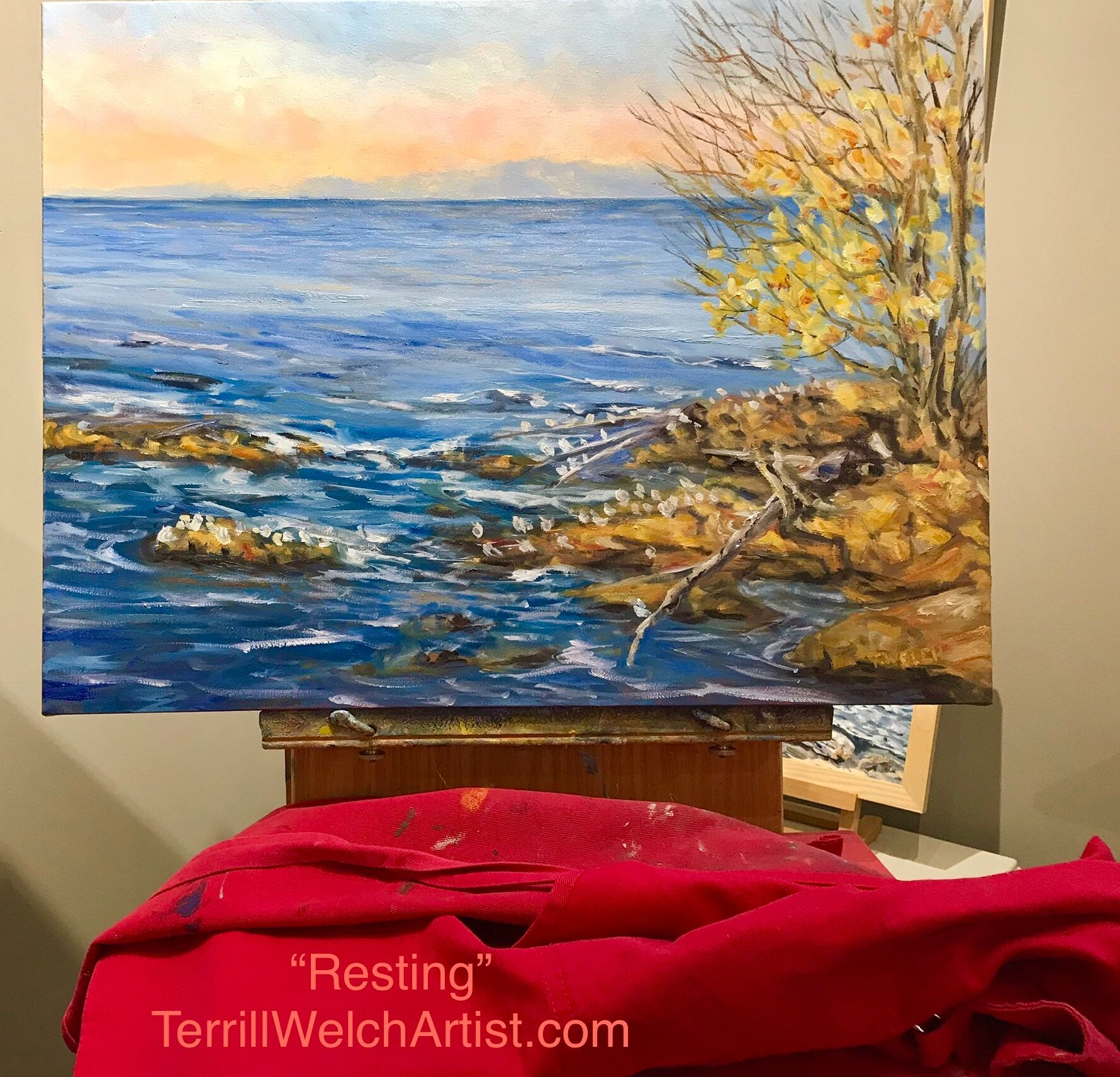 Le Petit Show welcomes new subscribers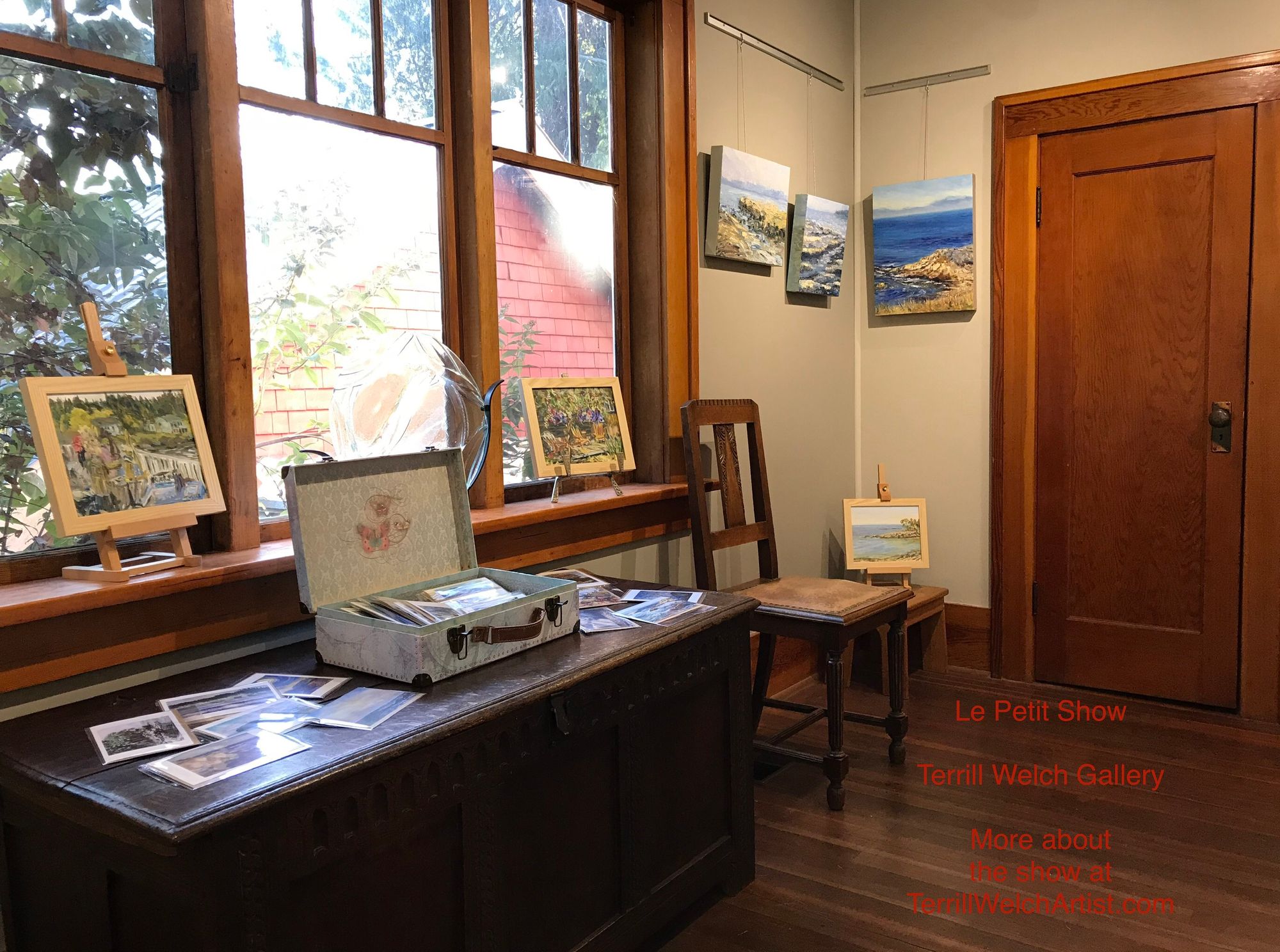 The recent Mayne Island November weekend saw more visitors to the gallery in a single weekend than has happened since opening the doors a year ago in August! I have participated in the studio tour for many years now. This is traditionally a small items sales weekend and the show ran true to its usual nature. However, besides cards and products, there was interest in specific works both in the show and also in the larger body of paintings. It is always a good day when this is the outcome. Plus, I would like to welcome new subscribers joining the Terrill Welch Gallery newsletter who discovered the Gallery at this weekend's Show. A pleasure to have you join us!
Sold!
Ahead of this past weekend's Show, "A Small Emerald Bay Mayne Island B.C." a 24 x 18 inch oil on canvas painting sold to a summer gallery visitor, newsletter subscriber, and new art collector of my work in British Columbia. I am excited to see where they hang the piece!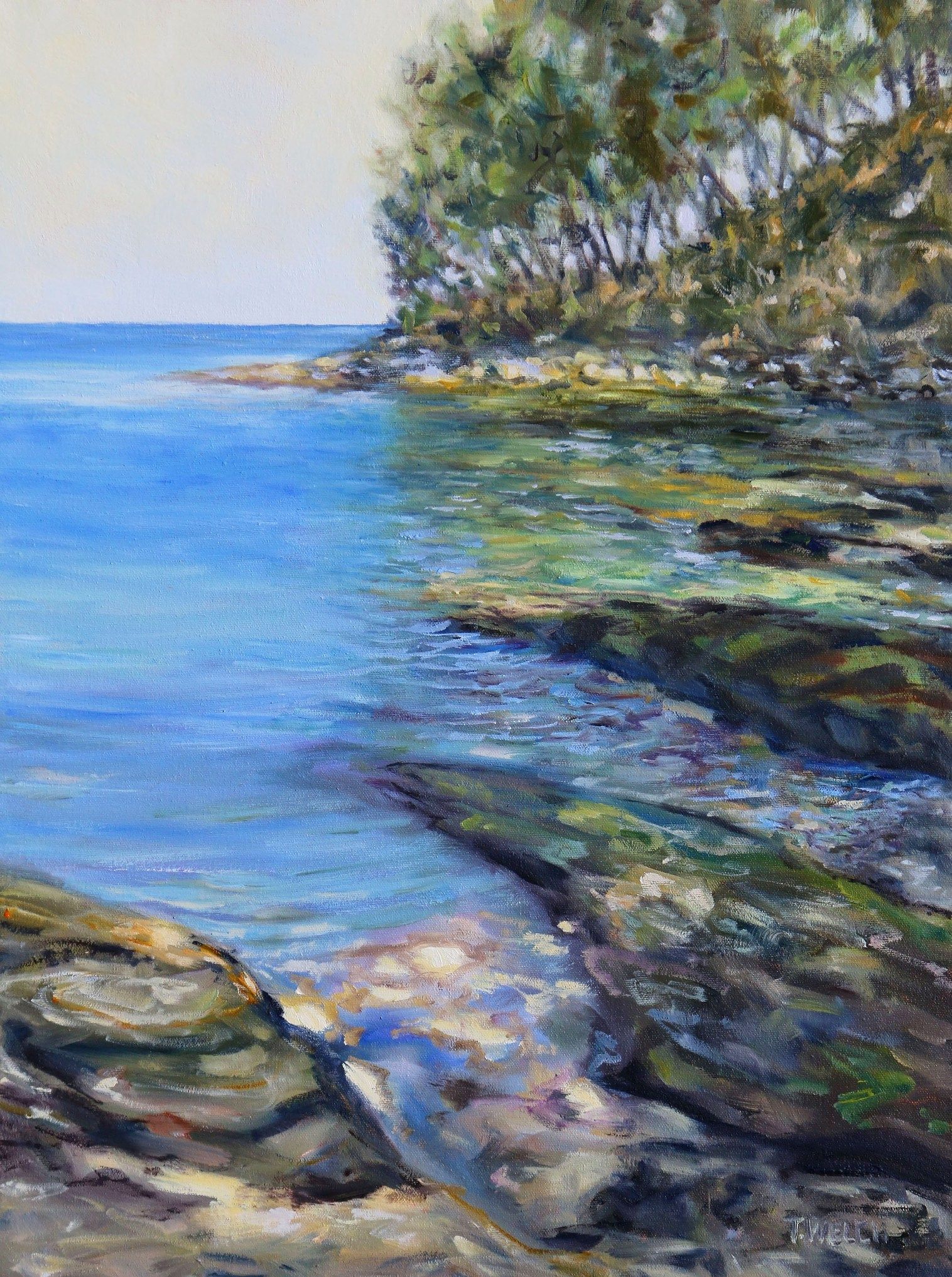 Black Friday to Cyber Monday Savings!
This may come as a surprise but I am NOT a big fan of shopping. We mostly each have enough "special stuff" and I am reluctant to even have one of my paintings added to a collection because it was "such a good deal" you couldn't pass it up. However, there is something called collector appreciation and this I DO wholeheartedly support! My long-standing practice is to offer a 10% savings to existing collectors of my original work, should they wish to purchase another painting. So...... for this Black Friday, Small Business Saturday and Cyber Monday (November 23-26th), and for newsletter subscribers only, I am offering a 10% savings AND, if you are already a collector, you can add your existing collector appreciation for a total of 20% savings. This is a token of my appreciation, offered in acknowledgement for your support, patronage and joining me on this grand painting journey. Happy art collecting on one of the biggest shopping weekends of the year!
Note: you may pass your savings on to others by sharing this issue of A Brush with Life gallery newsletter and the savings will also apply to any new subscriber who purchase an original work before Monday, November 26, 2018 at midnight PDT.
Welcome! We are please to present our online gallery for your viewing and purchasing pleasure. The gallery can be viewed as "ALL", "AVAILABLE" or "SOLD". You can search for a specific painting or look at a collection of works. Once you have found your perfect painting, click on the "INQUIRE" button for purchase and delivery…
Conversations About Painting
Elena Maslova-Levin (California U.S.A.) and I co-host Conversations About Paintings in a facilitated public group intended to expand and deepen the presence and participation of paintings in our lives. We are now sharing these video conversations in a blog format for broader distribution. I thought you may find it of interest and if so, I will share one of these conversations on occasion in the newsletter.
In our conversation about this painting a few weeks ago, we stayed within this experience, while making an attempt to comprehend how it has been created.
Opinion Piece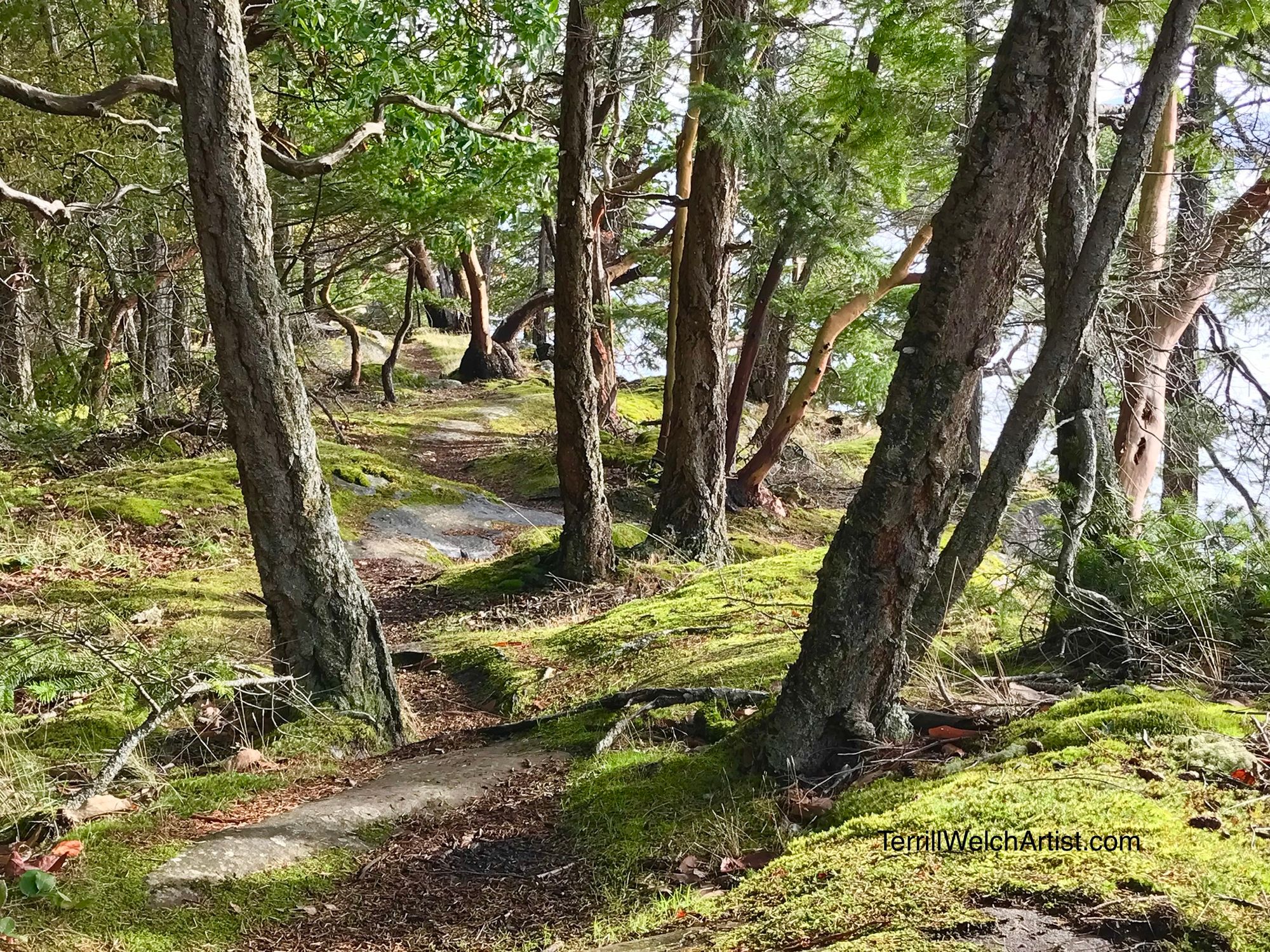 I sometimes get this heaviness or feeling of dreariness that can been hard to shake. It is usually not one thing but an accumulation of events and circumstances, related to larger more abstract challenges - rather then immediate personal issues. There are three specific activities that I know for sure work to travel through such murky waters in life. The first is a daily walk in nature. The second is painting and the third is time with family and friends. The trick is to remember that these three activities offer tried-and-true results. Now it is up to me to do them! The first two almost always happen - except on gallery days. The third is the one that takes some extra planning and must be included on my "to do" list in order to make sure it happens. Even then though, sometimes life is difficult and I simply must be forgiving of myself when my usual cheerful nature dissolves into grumpiness or tears. After all, how are we to know our own happiness if we are cheerful all the time.
What about you? What are your tried-and-true practices when life becomes irksome?
Until Next Time!
Landscapes and more by impressionist painter Terrill Welch