A Brush with Life - Issue #76 Shows Seagulls Landscapes and Master Painters
We, at the Terrill Welch Gallery, are feeling a little like seagulls resting in Mayne Island's recent sun. It is a time of pause or waiting while much is going on behind each rush of northwesterly wind across the Strait of Georgia. The gallery rooms are open online and by appointment as British Colu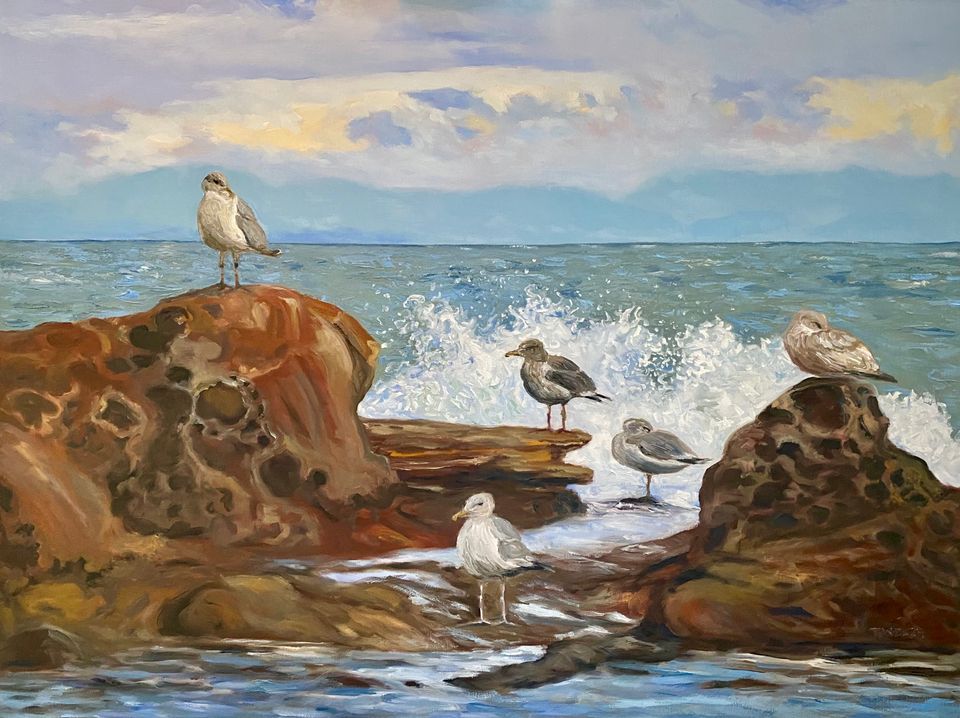 We, at the Terrill Welch Gallery, are feeling a little like seagulls resting in Mayne Island's recent sun. It is a time of pause or waiting while much is going on behind each rush of northwesterly wind across the Strait of Georgia. The gallery rooms are open online and by appointment as British Columbia (and Canada) wait out this third wave of the pandemic and we stay home as much as possible. Though somewhat weary, there is a kind of steady confidence because we know what to do and we are well practiced in doing it. Still, this is an unusual time. Community wide vaccination happened on our small island this week and we are hopeful for better days ahead. The gallery artists are still painting and we will bring you a glimpse of a new work in Terrill's home studio and the release of another recently completed landscape painting. We also have an intriguing interview with Elena Maslova-Levin about landscapes and master painters. Finally, there is an imagined visit to the Arbutus Room and a few other interesting bits connecting us back in time to Henri Matisse.
---
New Work on Terrill's Easel...
Though waiting on a final photograph, all done! "A Gull's Day" by Terrill Welch, 30 x 40 inch walnut oil on canvas...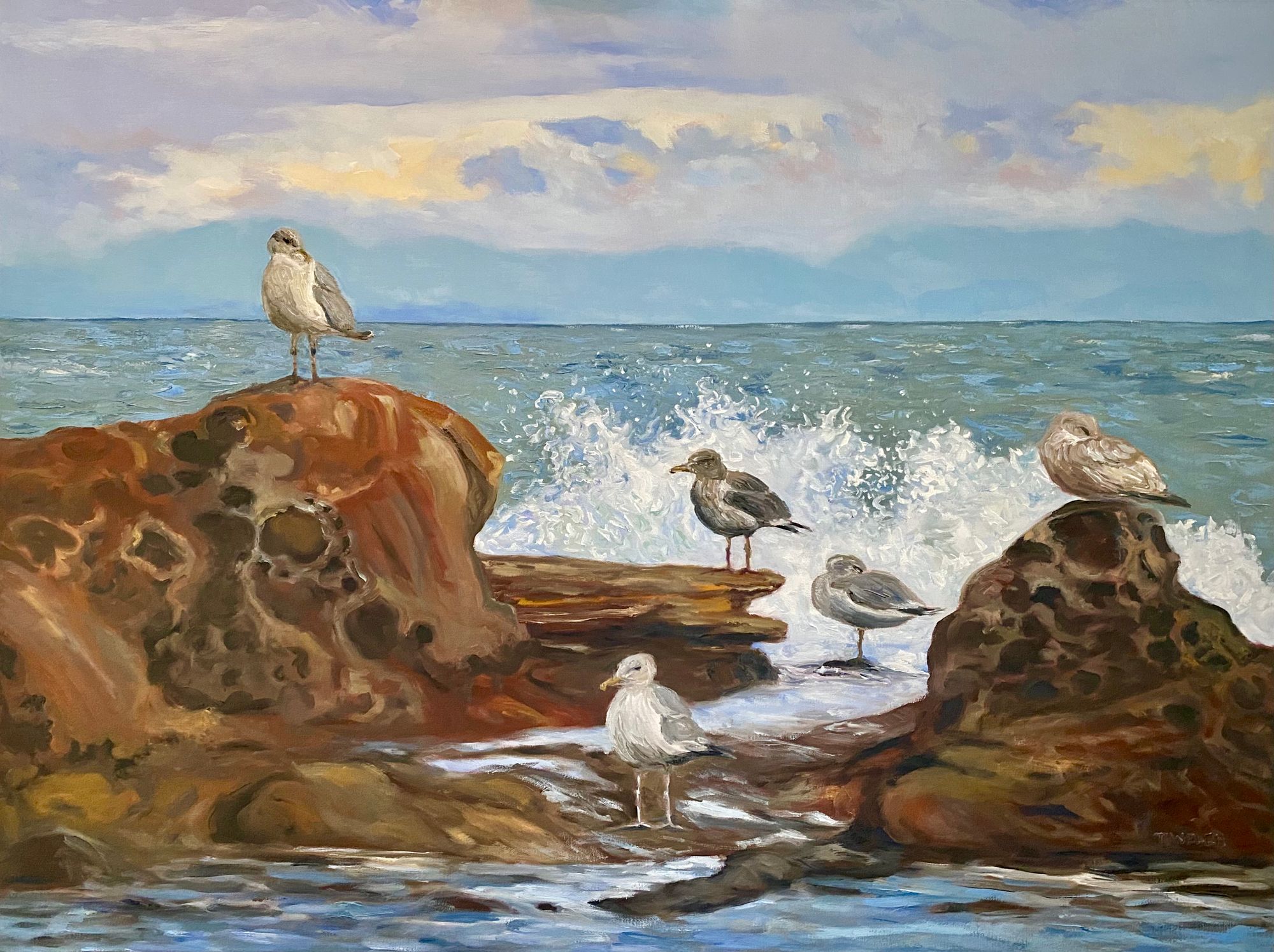 Artist notes: The gulls look particularly content in their patch of soft winter light during a high tide at Reef Bay on Mayne Island. So I pull out my best gull-like pose and stand with them for the afternoon.
In the morning light, at around 8:00 am, we can see the rich dark character of the sandstone. Then, when I took the next photograph 30 minutes later this painting had already started to reflect the light back to us. Some paintings are chameleons like this. They have a huge range of colour variance, like way more than other paintings, depending on the conditions. My big camera will capture the painting with more of its the rich dark tones then the phone camera does, which is partly why I wanted you to seek this image.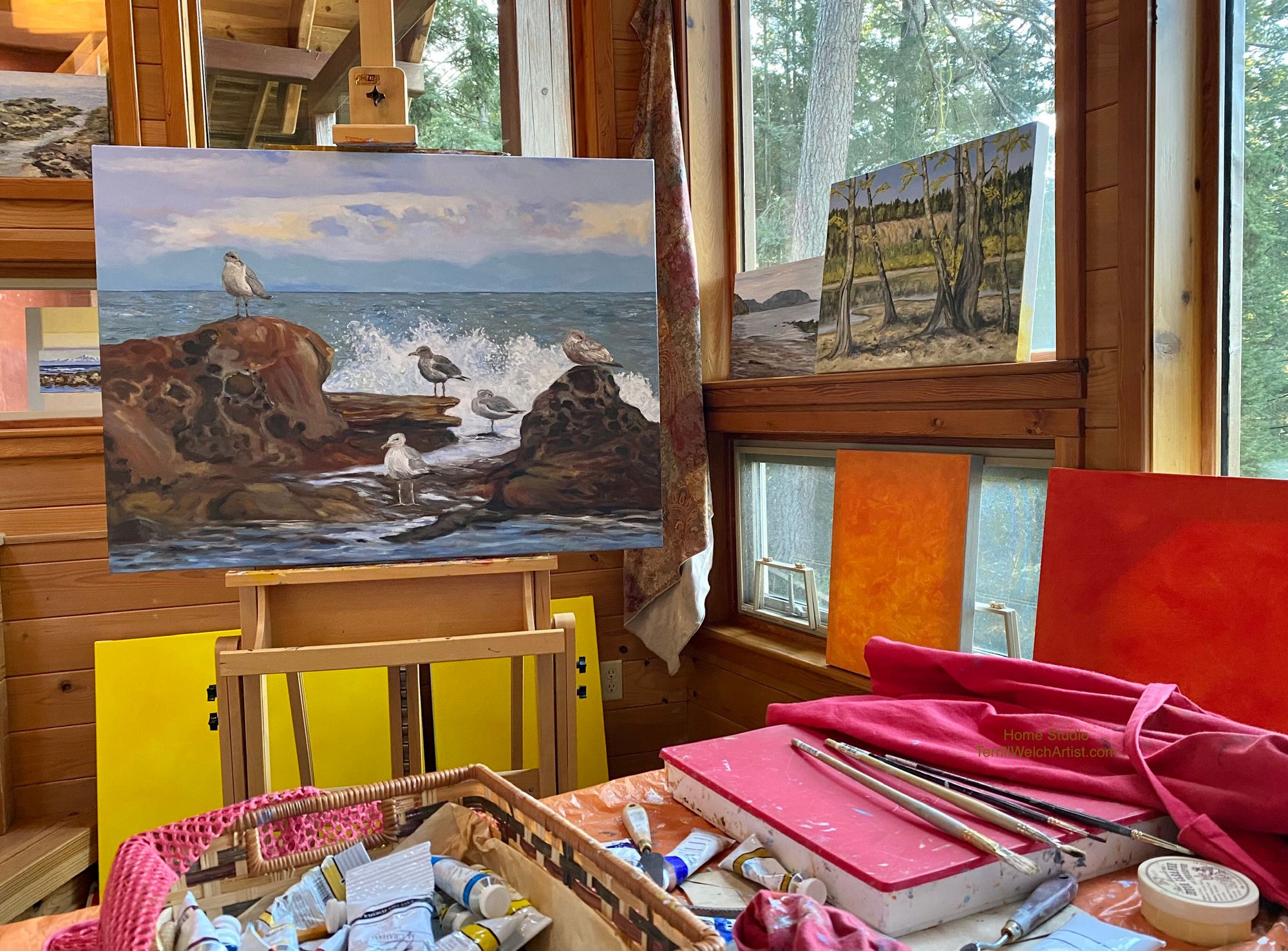 Anyway, I've also included a collage of detail images of the gulls since they are the stars of this work.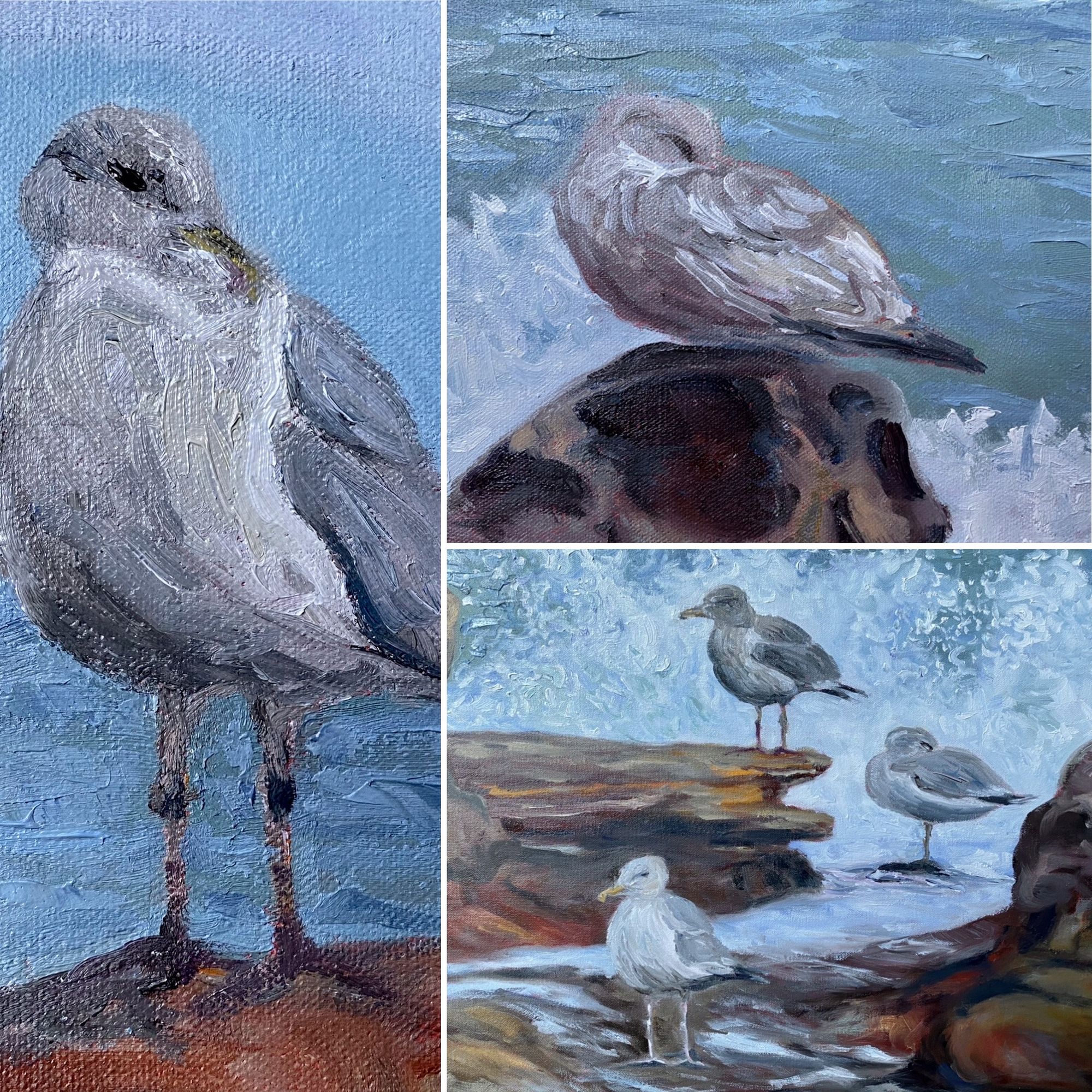 And here is a room view for those that are curious as to what it might be like to hang it on their wall...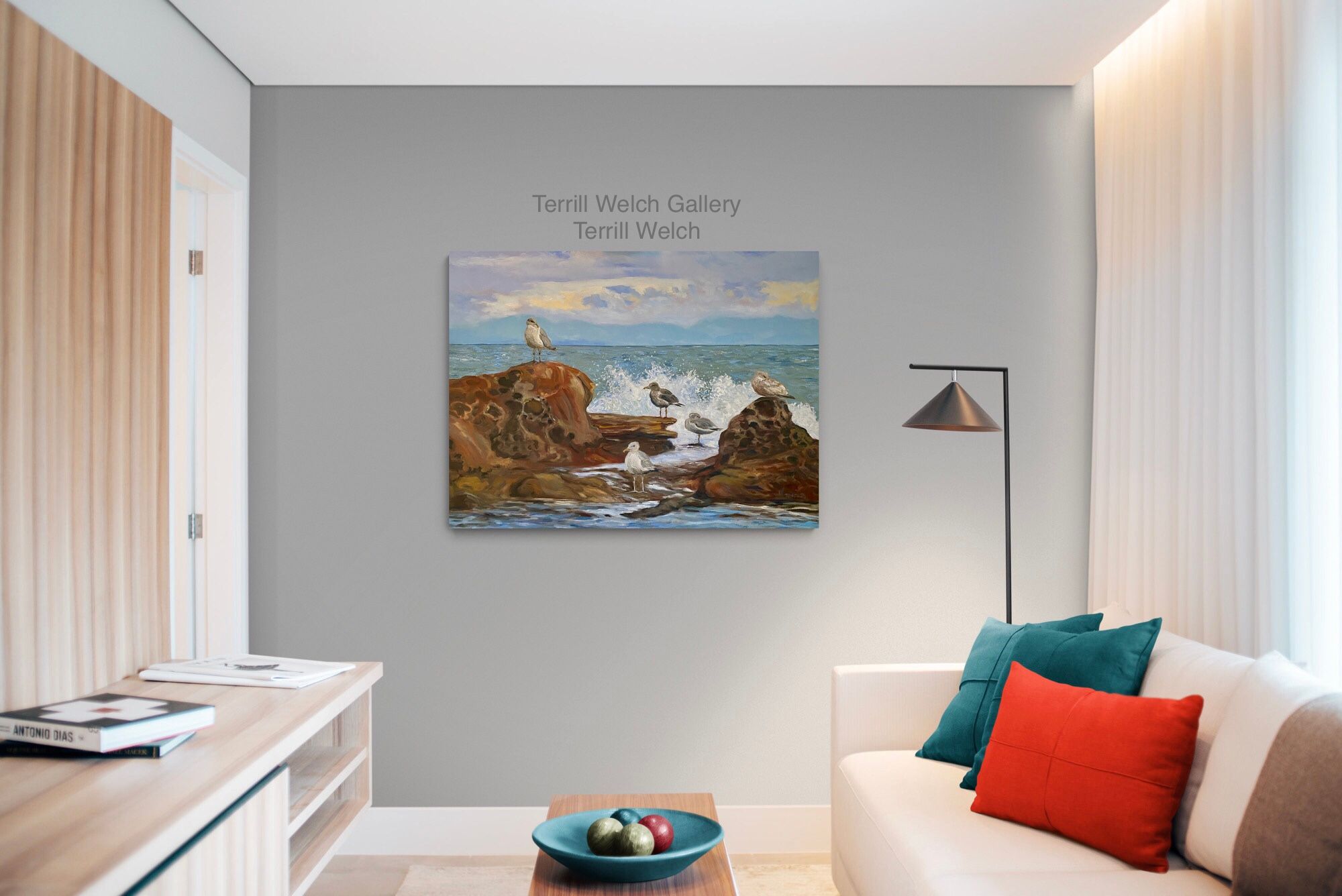 The painting won't be released for a week or so yet but, you are welcome to drop us a note to express your interest and be notified when it is ready to leave the studio.
Interview with Elena Maslova-Levin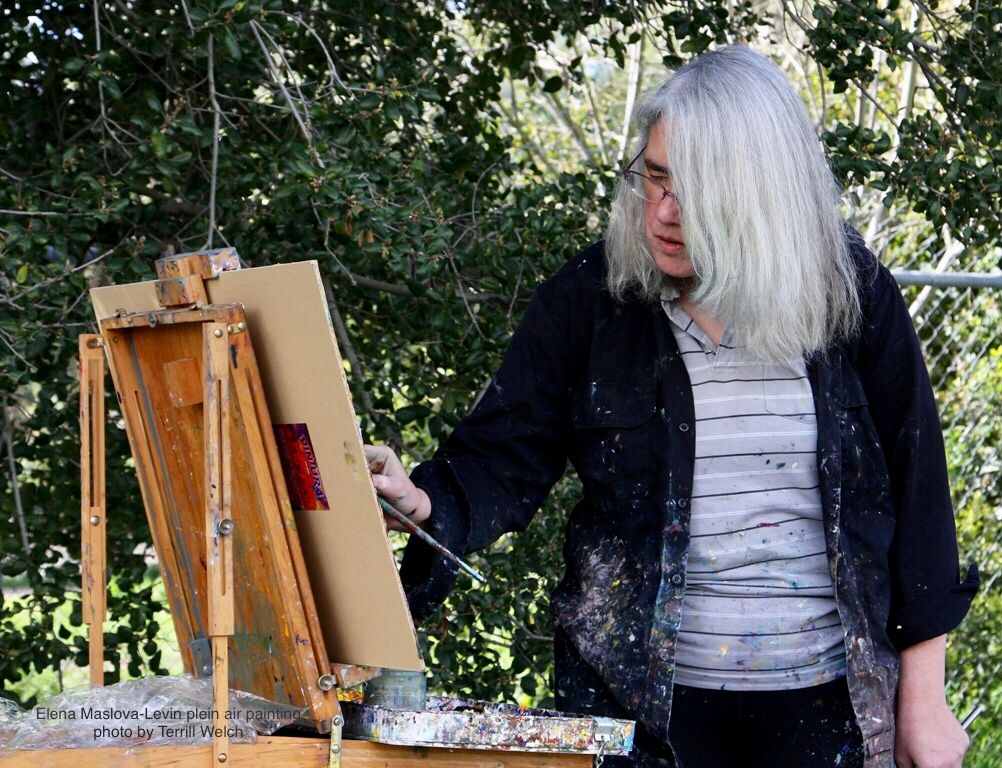 Introduction: I am thrilled to introduce you to the painter and intellect Elena Maslova-Levin. Of all my many painting colleagues, Elena has been the most consistent and intimate connection since about 2012. Our friendship has evolved into weekly zoom calls that started more than five years ago. In the spring of 2015, I travelled to Northern California and Elena and I painted together in a park near her home. In 2018, we had a two artist show in the Terrill Welch Gallery. During this time, Elena flew from California to Mayne Island, and gave a guest lecture in one of my painting classes and we painted together on the shores of Reef Bay. Like most of us, Elena's life's work includes more than one practice. However, for her new online exclusive solo show in the Terrill Welch Gallery, we are focusing on her relationship to landscapes in her paintings. I hope you enjoy our interview below...
Terrill: Can you tell us a little about your experience of the connection between the landscape and nature and master painters and poets?
Elena: What is actually happening when we see — and paint — a landscape? Paul Cezanne reportedly said that, when he paints a motif, he becomes its subjective consciousness. He was afraid people would think he was crazy, but I think he named an experience known to many artists, when you are both seeing, say, a tree or a mountain, as a witness, an outside observer, and becoming that tree or that mountain, at the same time. It may be, I think, the experience of non-duality which is the goal of so many spiritual paths — and as it turns out, painters have a special "backdoor" to it.
But the next question, for me, is who is it that is becoming the subjective consciousness of a landscape?
I see the whole evolution of art, since its very beginnings, as an exploration of reality, an expansion of consciousness, of human vision and awareness. It can be described as spirit entering nature through human experience, or as nature becoming more and more aware of itself in us — and it is probably both. An eons-long evolutionary "project" in which the spectators and the listeners have a role as significant as that of an artist (if not more so), because, as spectators, we "take in" artists' insights, and allow their experiences to become part of ourselves, and thus of the collective awareness of humankind.
Just imagine the world in which our collective awareness is imbued with Rembrandt's compassion, with Marc Chagall's colourful celebration of life, with Claude Monet's attuned and heightened attention to what is arising in every moment! And it is absolutely up to us -- to every one of us -- to make this happen… and all we need to do is just open our eyes and hearts to what these masters are showing us!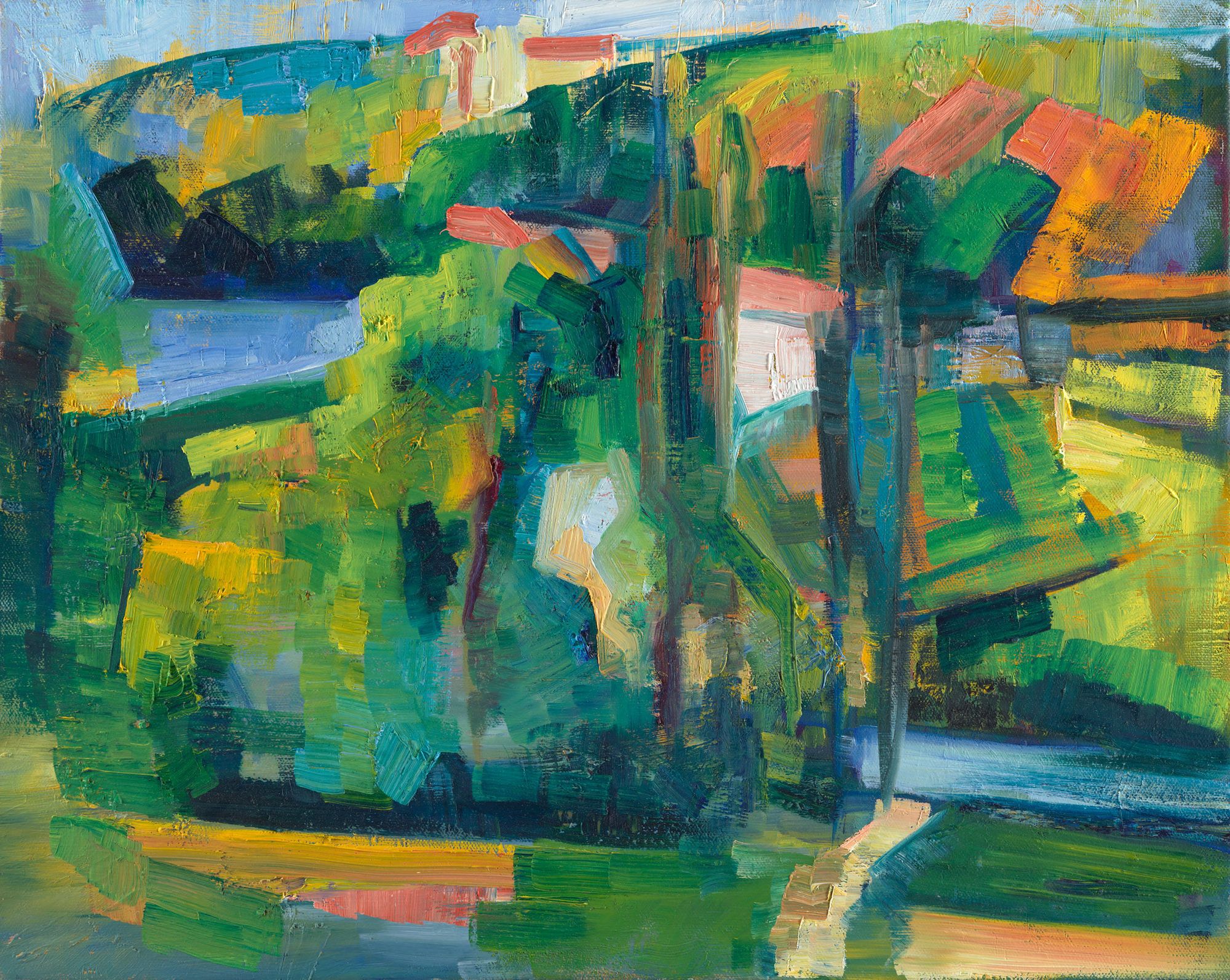 Available for sale from Terrill Welch Gallery, Elena Maslova-Levin, Landscape dissolving (conversation with Cezanne) (2018), Oil on canvas, 16 × 20 in
I've been a humble spectator and listener of Art for more than half an century. I love art, painting and poetry especially. And so my sense of vision, my thought patterns, all my experience of the world — they have been informed and expanded by all artists that came before me, who explored and expressed their own experiences, be it in paintings or in poems, and shared these experiences with us, allowed them to enter our psyches, inform and expand our senses and sensibilities.
So in a very real sense, when I see a particular landscape in a specific moment in time, it is not (just) an individual human being who is doing the seeing, but this whole field of art, all artists who have become an intrinsic part of my individual experience of life. The trick is to allow myself to disappear, so that this field can enter the painting process as a whole — as though I can see through every artist's eyes, and they, through mine.
So it's not really "me" who is becoming the tree or the mountain or the ocean. I simply lend my eyes, my colour sensitivity, my mind, my brush, my painting mastery — all of it — to the unified evolutionary impulse of art which longs to express itself. Occasionally, it feels like a particular artist is taking over (what would have happened if van Gogh had the chance to paint California landscapes?)… but it is not an individual artist, I think, it is, as you once put it, a "painting thought", an insight which still needs to evolve and expand, and is now "using" me for its expression. These "painting thoughts", particular lineages of insights — they just sometimes take longer to be fully explored and expressed than any individual artist's life. And so I pick the lines of thought/vision I feel personally connected to (and which we associate with names like van Gogh, Cezanne, Chagall) and do my best to keep them alive and evolving.
I think, in some sense, this is the case for many (if not all) of us, consciously or non-consciously: our vision is informed and expanded by artists of the past (just like our thoughts are influenced by thinkers of the past, whether we know it or not — or just like the modern English is influenced by Shakespeare, even for someone who has never read his poetry or seen the plays). I just felt the inner need to explore and expand this synergistic experience consciously, really cultivate it through my work — as though some painting insights needed further exploration, and just "found" an artist willing to surrender to this impulse (as opposed, perhaps, to "self-expression"). And this lived awareness of interconnectivity has become my favourite kind of "peak experience".
Terrill: Having been born and raised in Saint Petersburg, Russia and then later in adulthood moving to Bielefeld, Germany before coming to California in 2000, how have these geographical and cultural changes influenced your experience of the landscape?
Elena: Saint Petersburg is a city of classical architecture — straight lines and subtle, muted colours. It is at its best on sunny winter days, when everything is covered with white, fresh snow — so it is like an ink drawing, with just a few dark lines on a white sheet, and in June, in the time of "white nights", tender, subtle colours of twilight imperceptibly changing into a new dawn. It is majestically beautiful, a triumph of art — and it is also very imperial, very un-free. An incredible, powerful victory of human spirit against an unwelcoming environment (the city was built on almost uninhabitable swamps, and way too close to the border for the country's capital — as a symbol of confidence and defiance) — but this achievement required brutal, tyrannical force of monarchy to channel and direct human efforts, and claimed many lives. And however beautiful it is, however much I loved it as a girl, this underlying substrate of suffering and tyranny is always there. In a sense, it is the opposite of freedom. One can see it as a triumph of man over nature — and as we know, this is a self-defeating triumph.
But Art is also everywhere, in the city's DNA — the city itself, its palaces, its architectural ensembles: unlike most historical cities of Europe, it has not "grown" naturally, it was envisioned and designed. Its museums. Its parks and gardens. The river banks enclosed in beautiful, mighty granite… Almost every view there had been drawn and painted by the time I was born, described in poems and novels, and so filled with intense, crystallised experiences of many artists. So it came naturally to me, from childhood, to see every view through these lenses…
Against this background of my childhood, California is all organic wildness and outburst of all colours of the rainbow, and especially all kinds of green — even if I know that it is a pretty "civilised" place overall. But compared to Saint Petersburg, it is almost like the contrast between nature and mind made visible. As you might have noticed, it took me a while to fully live into it, to allow the relief to the senses, the ease and grace of California to enter my life. And the first thing I came to love were, of course, its colours and its light (which is sometimes quite surreally beautiful) — and its early green, which is the central motive of this exhibition — was one of the strongest first experiences. I missed the fabric of Art, the beauty of architecture — but, as it turns out, I brought it with me: all this history enters my landscapes, in one way or another.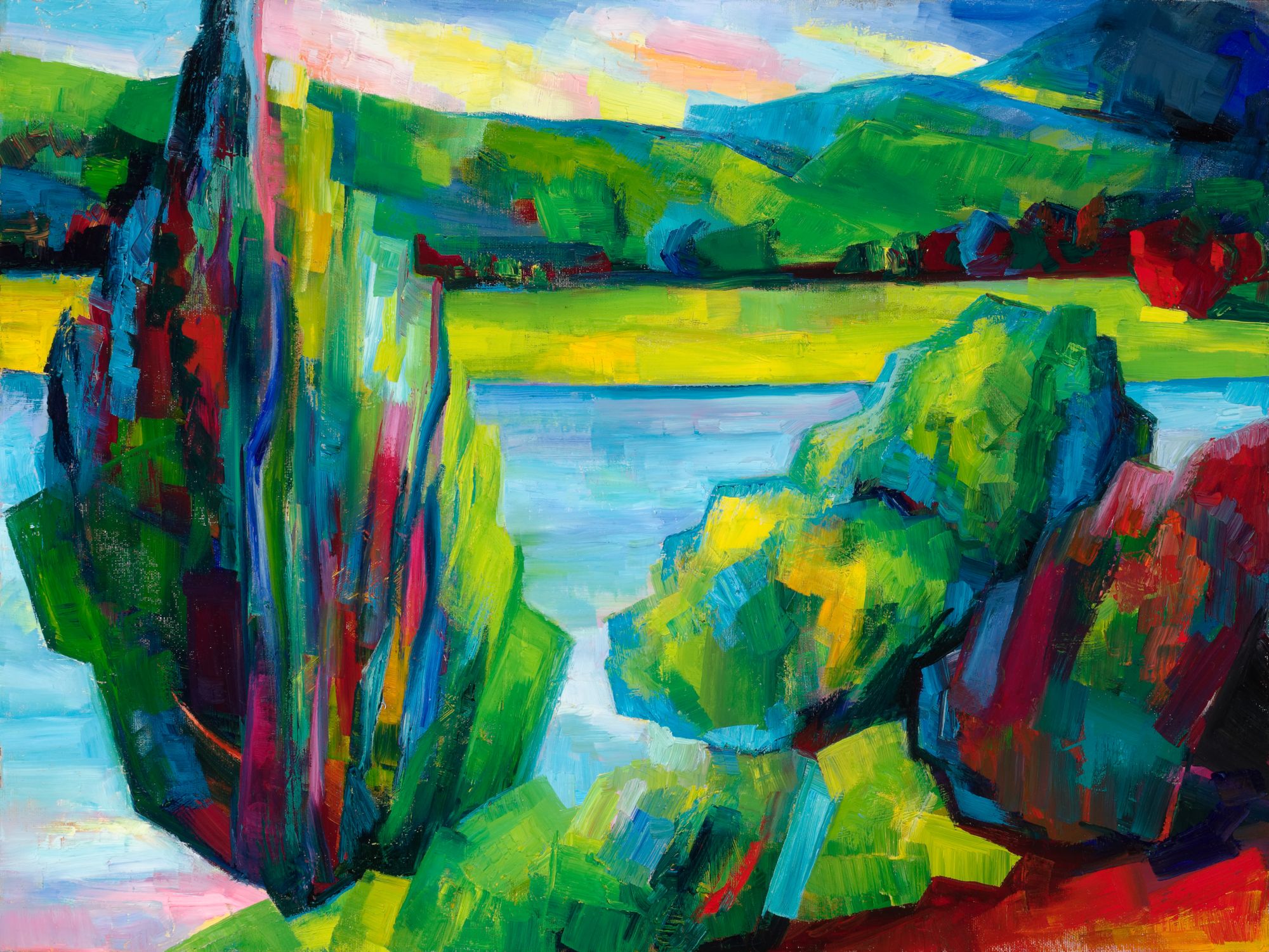 Available for sale from Terrill Welch Gallery, Elena Maslova-Levin, Break in the clouds (Fir tree on Quarry Lakes) (2015), Oil on linen panel, 18 × 24 in
And in this story, my several years in Europe feel like a pause, a void, an intermission. The city we lived in was completely destroyed during the war — and then rebuilt practically, frugally, with complete disregard to any idea of beauty. Neither art nor nature. Just some buildings to give shelter to humans… There were also no rivers — no bodies of water at all, which made me realise just how vital it is for me to live near water. Quite often, we need to experience a lack of something to fully realise how important and significant it is for us — so these three years made me realise that my survival needs include art, nature, and water! I think I only survived there (in Bielefeld, Germany) because I filled all the walls with reproductions of my favourite paintings… And also -- because it was very near to Amsterdam -- with its enchanting canals, its tulips, its church bells in the evenings, and, of course, Rembrandt and van Gogh. All this just a couple of hours away by train…
And of course, these years also gave me an opportunity to see other places in Europe — with all its various ways of more harmonious integration of man-made beauty into nature, but my answer is probably already too long to go into this in any detail…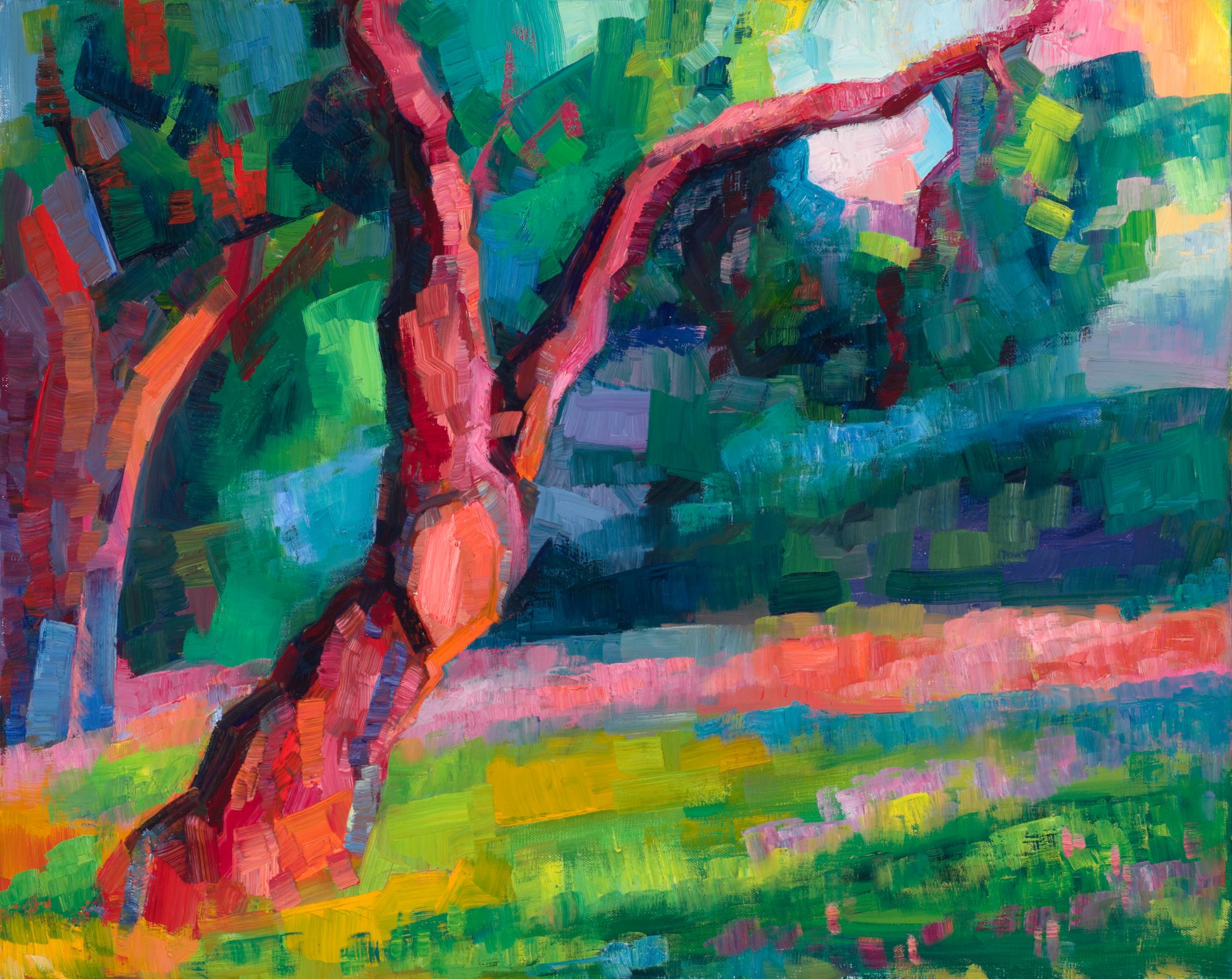 Available for sale from Terrill Welch Gallery, Elena Maslova-Levin, Unknowingness (2018), Oil on linen panel, 16 × 20 in
Terrill: Is there one landscape near where you live now that you have painted over and over again either directly from nature or memory? If so, what is it that keeps drawing you back again and again to this specific landscape?
Elena: There are two such places (and both of them can be seen in this exhibition).
One is the Half Moon Bay harbour. In practical terms, it is just the nearest view of the Pacific ocean — our go-to place to see it again. But there is also something very special about this harbour. A quiet, powerful presence of the Ocean, with its slow beat of the waves, and a picturesque, playful village above the beach, with a stretch of greenery filled with bright flowers in between. We have a tradition of renting a room there for New Year's Eve: there is a feeling of time slowing down there, almost coming to a still point, that is somehow "fitting" for the New Year. I have several "pairs" of paintings: the same view painted on the evening of December 31 and in the morning of January 1 of the next year (from different years). One of the "morning" paintings — a painting of new beginnings — is included in this exhibition.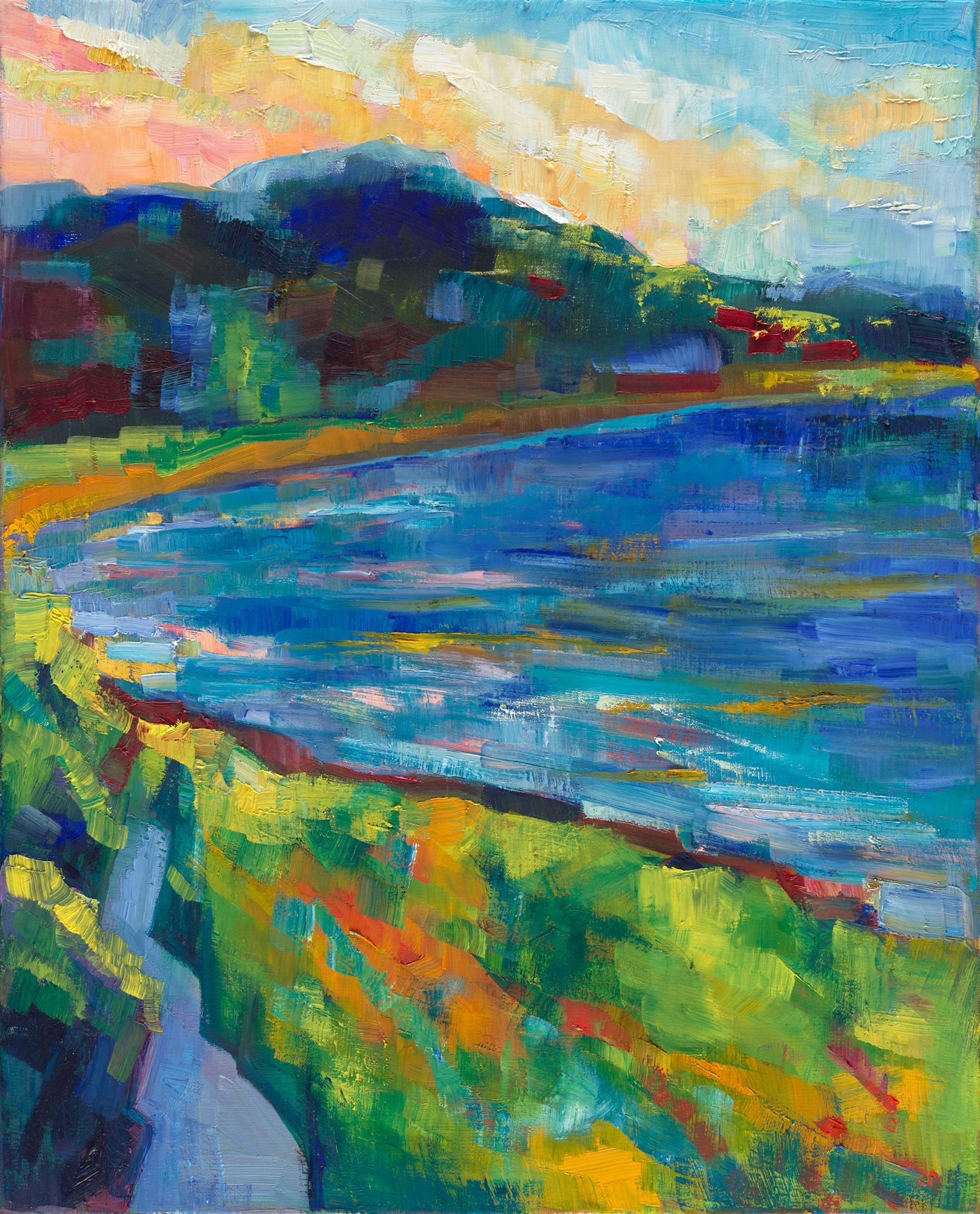 Available for sale from Terrill Welch Gallery, Elena Maslova-Levin, New Beginning (2018), Oil on linen, 20 × 16 in
Sadly, we were unable to do this this year — because of a surge of new COVID-19 infections — but I certainly hope to do this again next year.
The other place is the Coyote Hills park, once a sacred ground of the Ohlone tribe, on the shore of San Francisco Bay (it is very close to where I live). The hiking path curving around these hills and opens an incredible, other-worldly view of the hills, an organic, multidimensional space — all the human-made straight lines are kept away, on the other side of the Bay, barely visible. It is very easy for me to experience the so-called "headless" state there, when you feel like the space where you usually believe your head to be is actually filled with the whole landscape. It is in this multidimensional, curvy space — which is always bright-green in winter, just after the rain season — that I discerned, one day, this figure of awakening Gaia: one hill, her hip, another, her shoulder…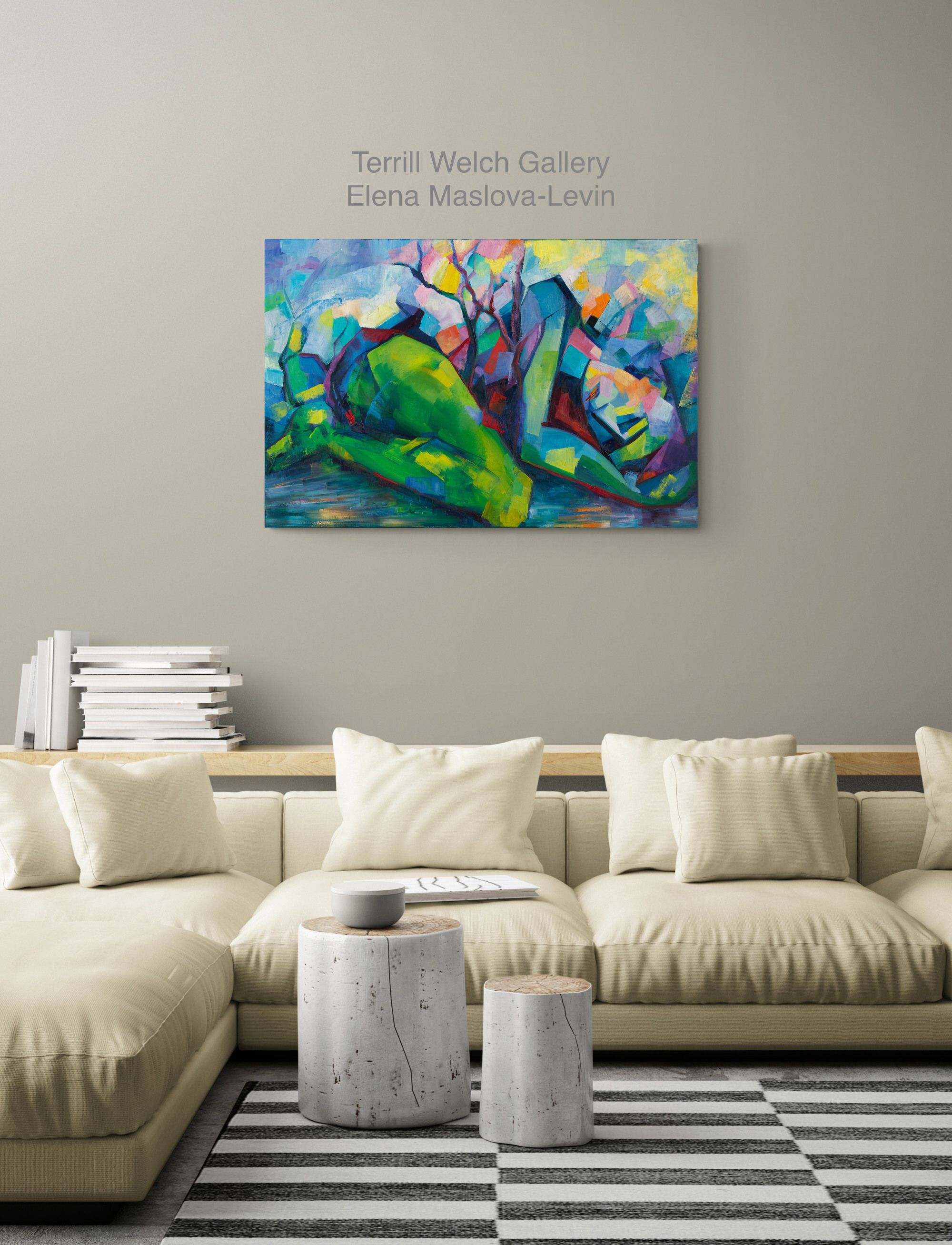 Terrill: And for our readers this is the painting "Gaia (Self) Portrait (Coyote Hills)" shared in the previous issue. You are welcome to view it again at the link below.
Available for sale from Terrill Welch Gallery, Elena Maslova-Levin, Gaia (Self) Portrait (Coyote Hills) (2016), Oil on canvas, 24 × 36 in
Conclusion: Thank you as always Elena for your generous sharing of your experiences. I am thrilled and excited to be able to again show your work with the Terrill Welch Gallery. Your online exclusive solo show "Promise of California Green" opening Wednesday, May 5, 2021 is as one might experience spring within their very being no matter when or where they might live. We will provide subscribers an early preview link ahead of the opening date in our next newsletter. And thank you again Elena!
Show Feature: three works by Bill Hibberd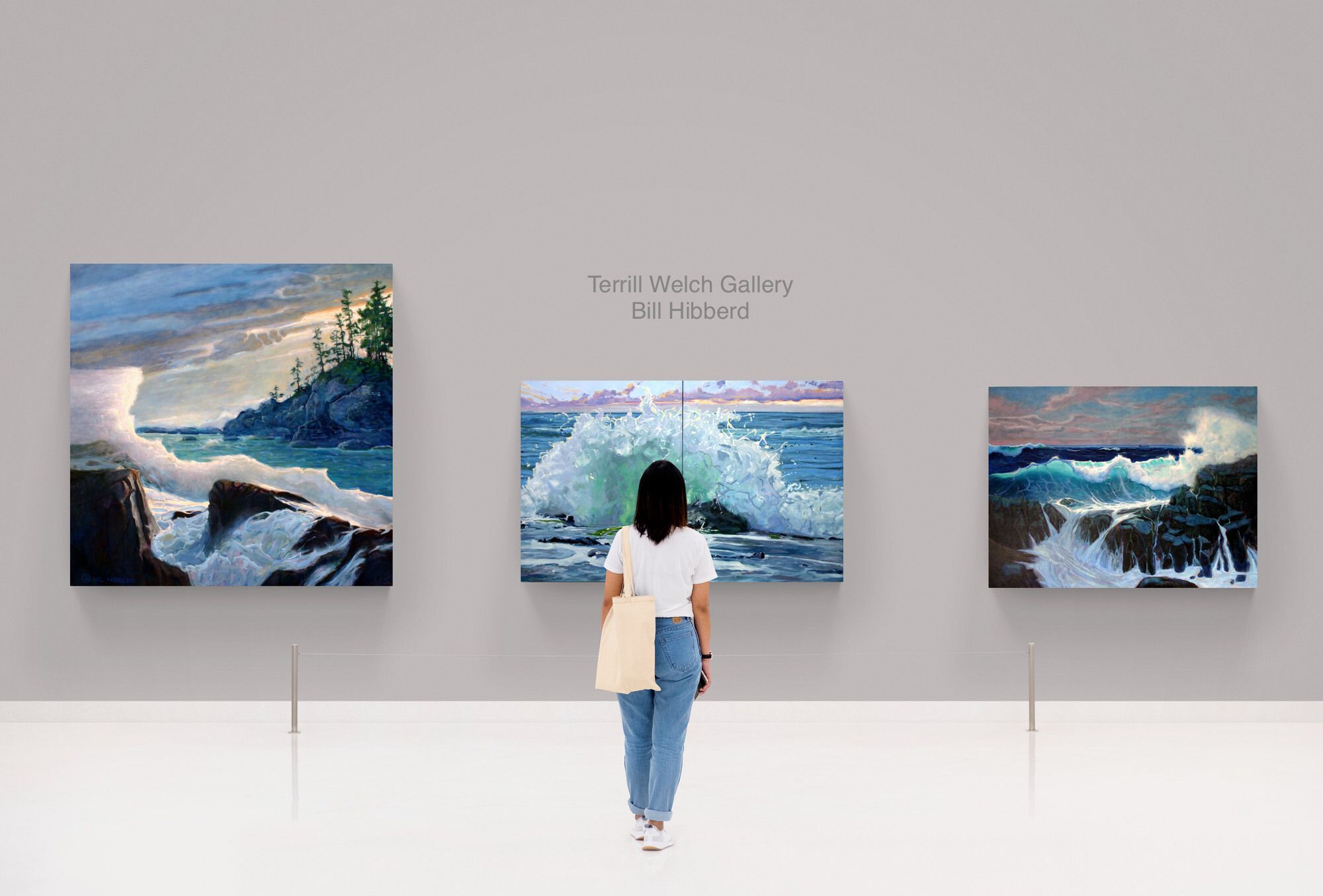 Bill Hibberd lives and paints in the Cowichan Valley on Vancouver Island, Canada. The southern Gulf Islands provide Bill with scenes and elements that move him emotionally and spiritually. He explains, "my goal is to create art that people perceive to be beautiful. Perception of beauty causes an involuntary release of dopamine to flood our minds. Mutual appreciation of beauty nurtures consensus and unity. That is my quest". Bill works thematically and presently is working in oils with walnut oil medium, with occasion applications of silver or gold leaf.
These three seascapes are in the Terrill Welch Gallery two artist online exclusive show "West Coast Edge" and if you haven't had an opportunity to drop by yet, this is your chance...
Landscape painters Bill Hibberd and Terrill Welch push their brushes up against the dramatic west coast edge between sea and shore.
Closing on Wednesday, April 21, 2021
There is only a few more days left for "Between Branches - our being with trees" featuring paintings by Annerose Georgeson and Terrill Welch. If you want to stop in and have one last look, click on the link below.
Discover where the work and stories of Canadian landscape painters, Annerose Georgeson and Terrill Welch, meet and where they diverge from within their own unique forests and experiences.
What Has Sold
A beautiful work by Jennifer Peers that we had in an early show "Close to Home" and was still being represented by the gallery has left on an adventure of its own....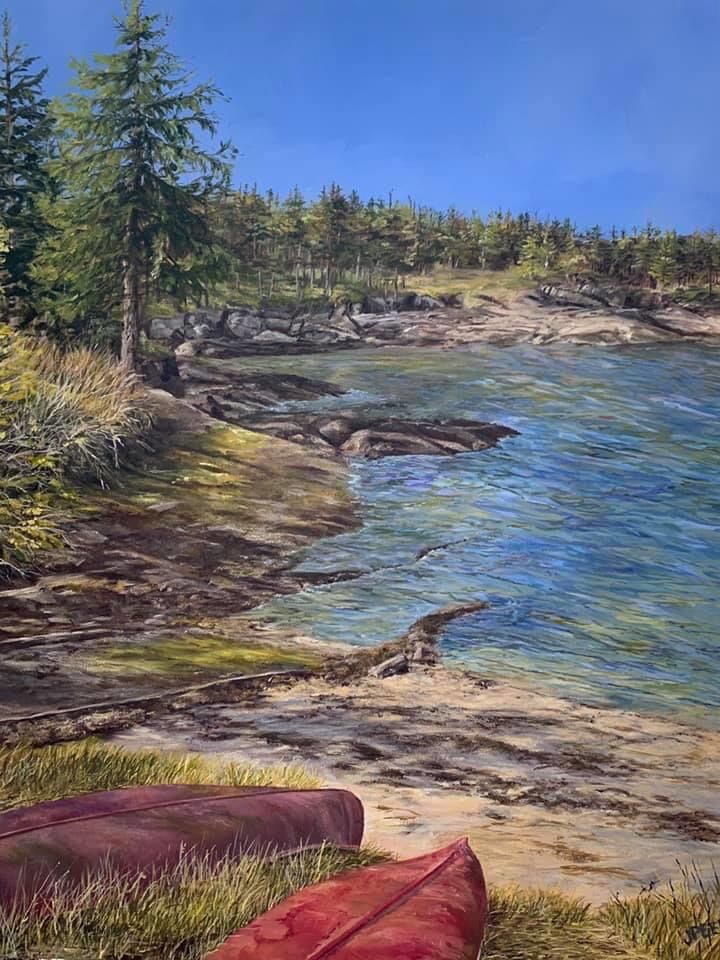 "Calmness in the Cove" by Jennifer Peers , oil on canvas, 24 × 20 inches.
Artist notes: David's Cove late in the day, the shadows increase across the boat launch and the sun has warmed the cove making it a perfect spot to swim, paddle board and picnic on the beach.
Our congratulations to the art collectors and to the artist!
You can view other paintings represented in the Terrill Welch Gallery by Jennifer Peers at the link below.
Find the latest shows, biography, and artworks for sale by Jennifer Peers
Special gallery tour of the Arbutus Room
Over the weekend, I was at the gallery's Arbutus Room to meet an art collector by appointment. I had the door and the windows open and we agreed to keep our time brief and of course, wear our masks. As I was waiting for the art collector, I started browsing the room as you might if you were able.
Here is the online gallery link below to the whole current "Embracing the Unknown" show in the Terrill Welch Gallery Arbutus Room at 478 Village Bay Rd...
Paintings that place our minds in a cradle of nature's loving kindness with work from landscape painters Jennifer Peers, Jody Waldie, Glenda King and Terrill Welch.
I encourage you to view each work more closely online as we are only open by appointment at this time and we encourage pre-selection of your choices before coming in. We have extended this show until June 20, 2021 to allow more time for possible in-person visits in the future when things hopefully get a bit better.
However, just for fun, come with me through these images and we will imagine browsing the Arbutus Room together as I introduce you to the work by the various Mayne Island landscape painters. It will be fun! I promise!
We might start by standing a little to the left of the sliding glass doors after having sanitized our hands. The pair of bright Glenda King paintings may have required a long pause while letting our gaze settle into the room.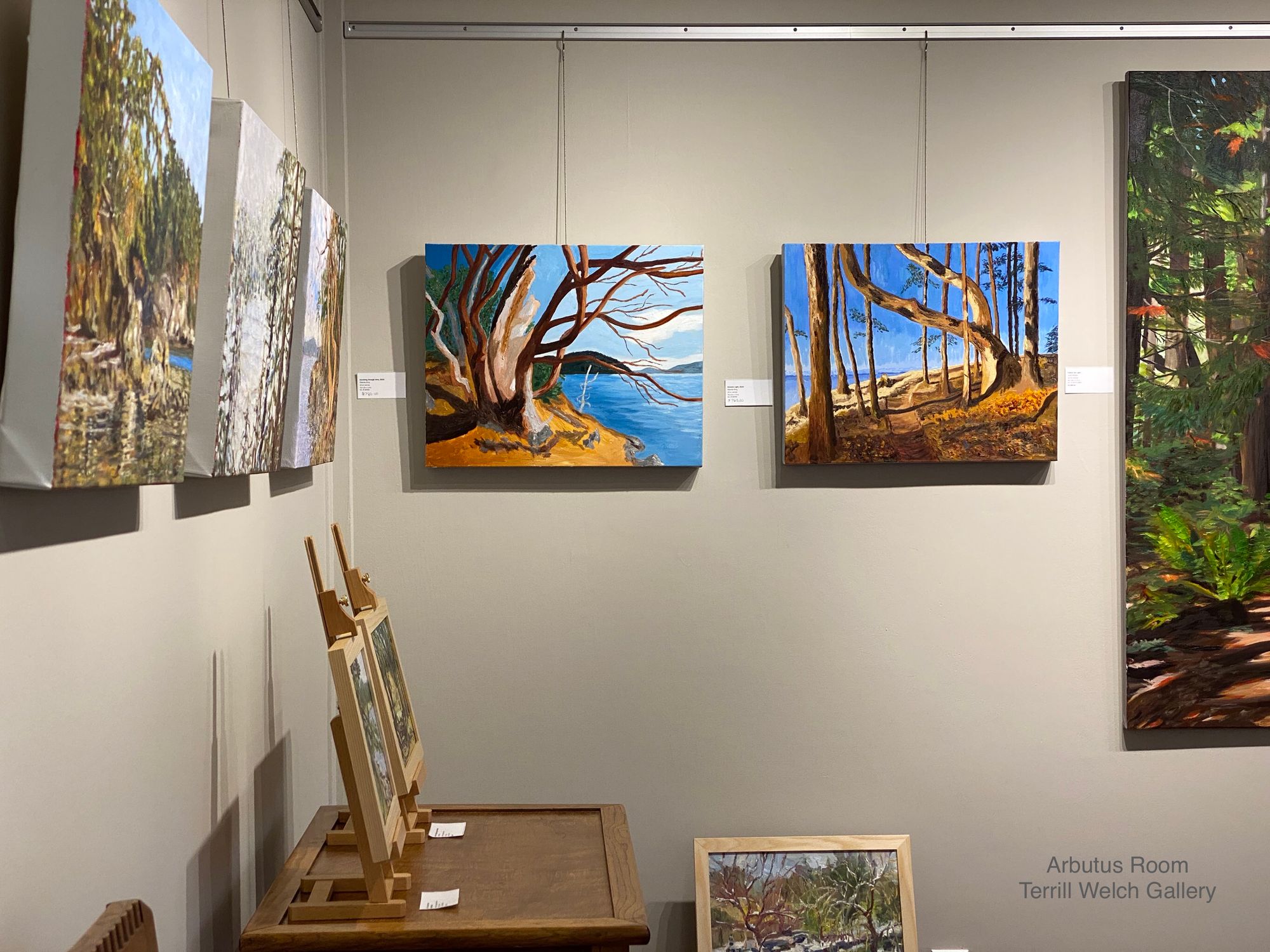 Then, the large oil painting by Jody Waldie could take us far into the dappled forest of a place that possibly seems familiar. Yes, it is Saint John Point park.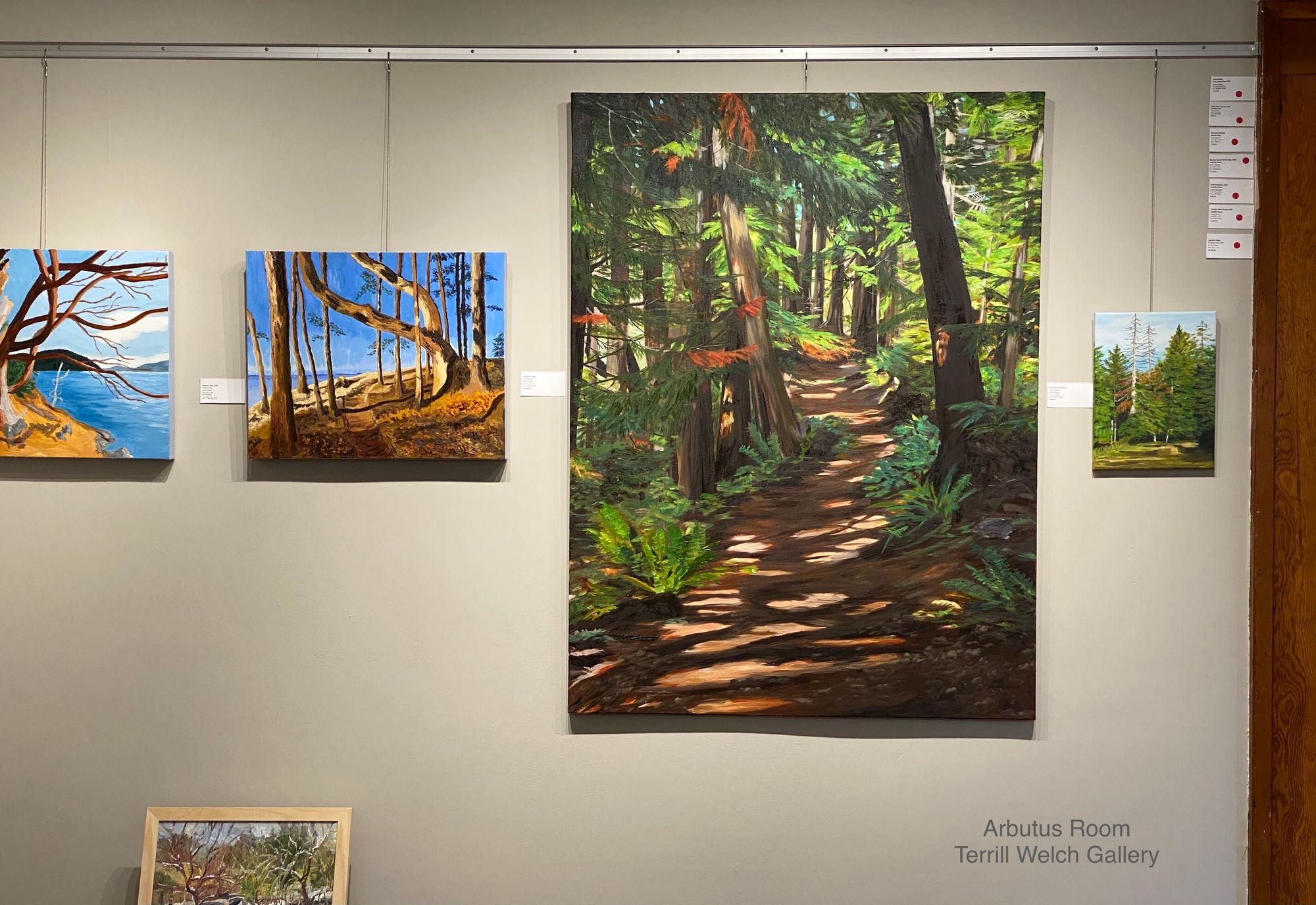 As we step together into the middle of the room, feeling extra pleased that we have the paintings completely to ourselves, we might notice the three landscapes by me at the top with the one on the left of Bennet Bay, the snow scene in the middle of my private view from our deck and the one on the right also of Saint John Point. Possibly we will linger over the small works thinking about what they would be like beside our desk or on a bookshelf near our reading chair.... possibly.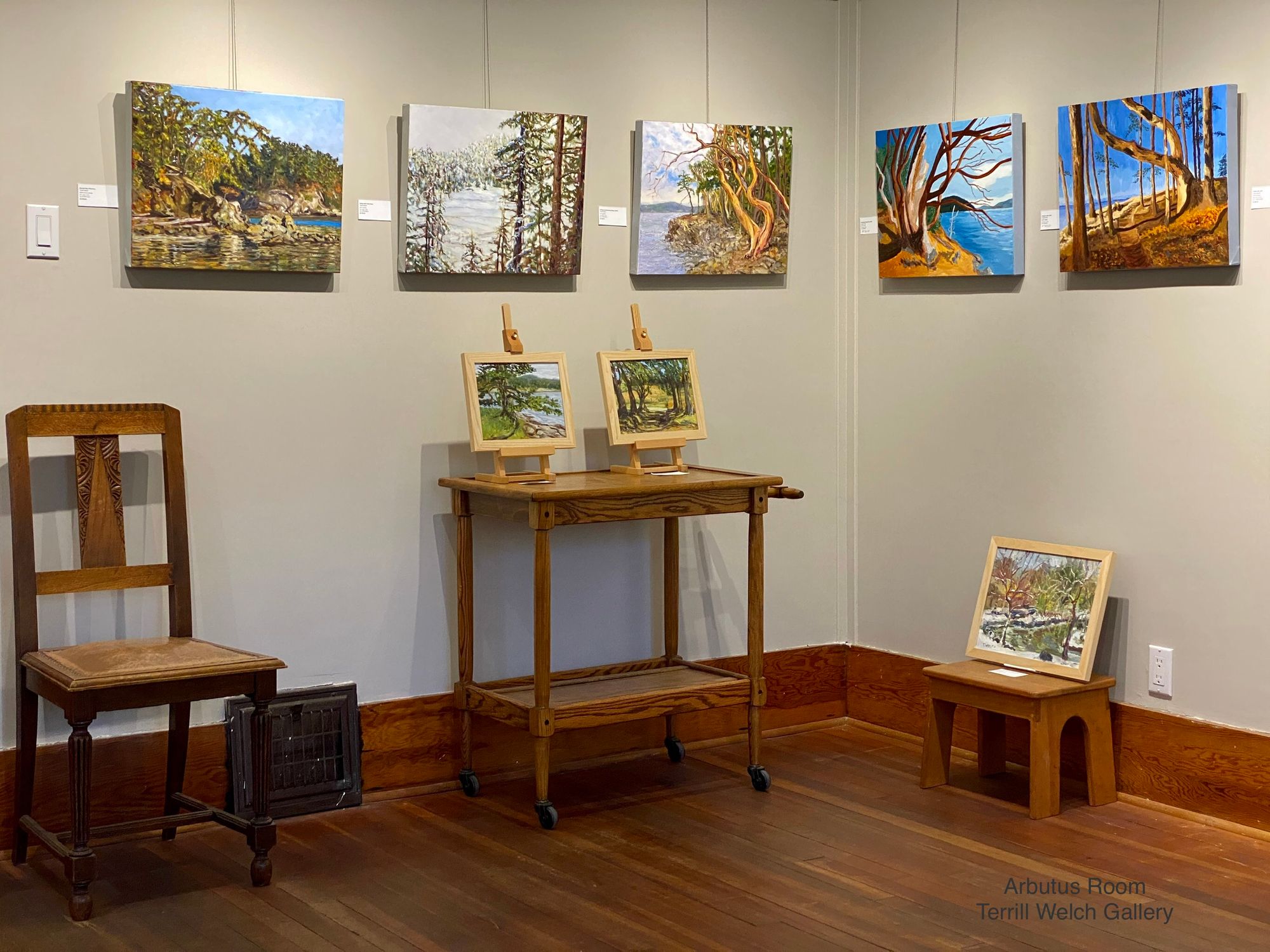 We turn slightly towards the door and let out a long unedited "aaaw" as we are gripped by Jennifer Peer's large work of our popular Arbutus tree at Georgina Point. Next, we see a Mayne Island cabin by Jody Waldie and a pair of paintings, the one on the left by Jennifer and the one on the right by Jody both of the same view from up on Mount Parke from slightly different angles. I might tell you about this day when we were all invited as guests to paint from two lovely private properties sitting side by side. As painters, we have been most fortunate to have been hosted by Mayne Islanders many times to plein air paint private views.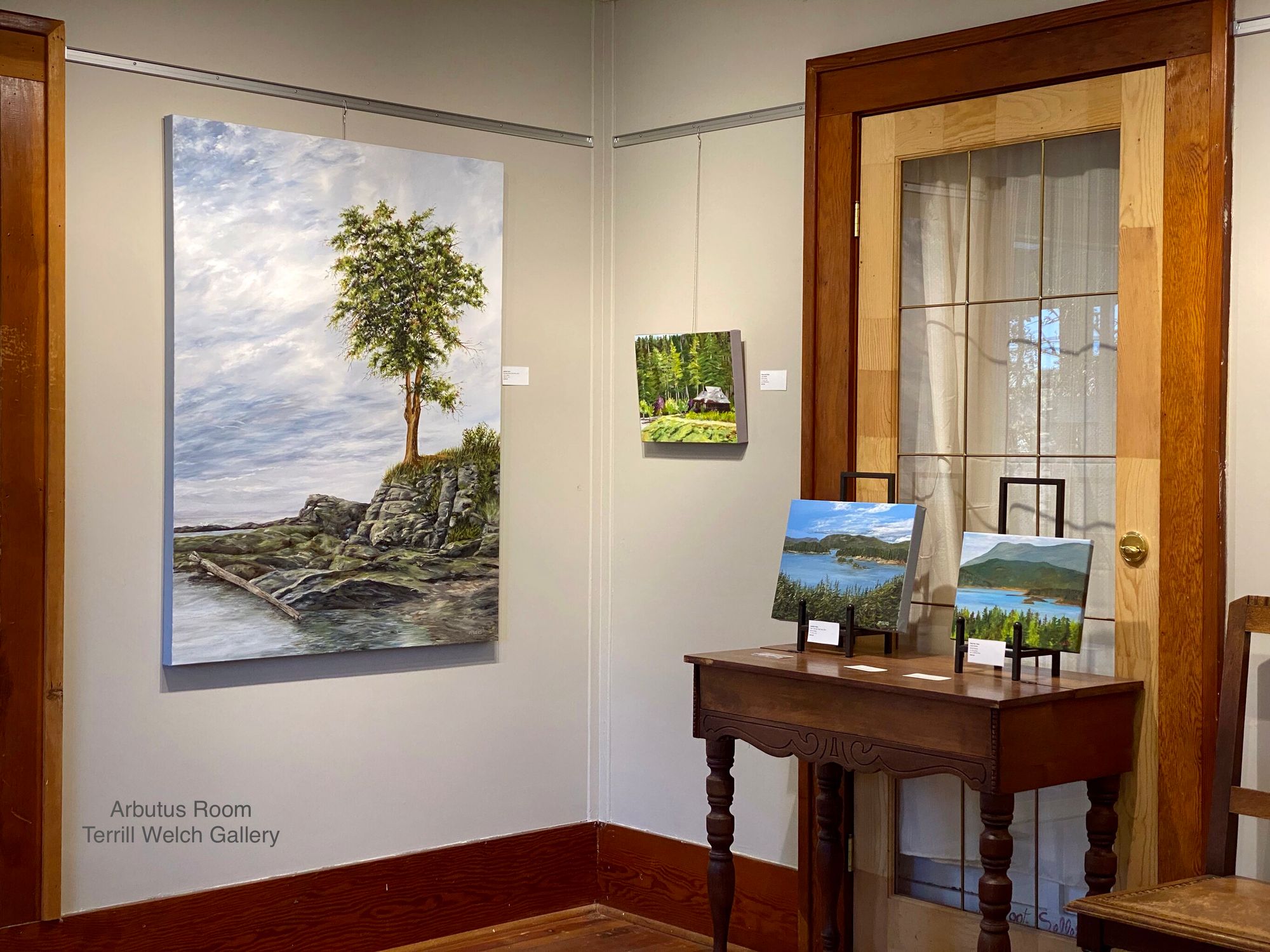 Then, we might turn around and look in the opposite corner where there are two of my seascapes and one on the right by Glenda King. There is a open restfulness with these three that leaves us in a long silence as we slip out over the waves and back again before turning to each other and grinning. Fresh! Very fresh!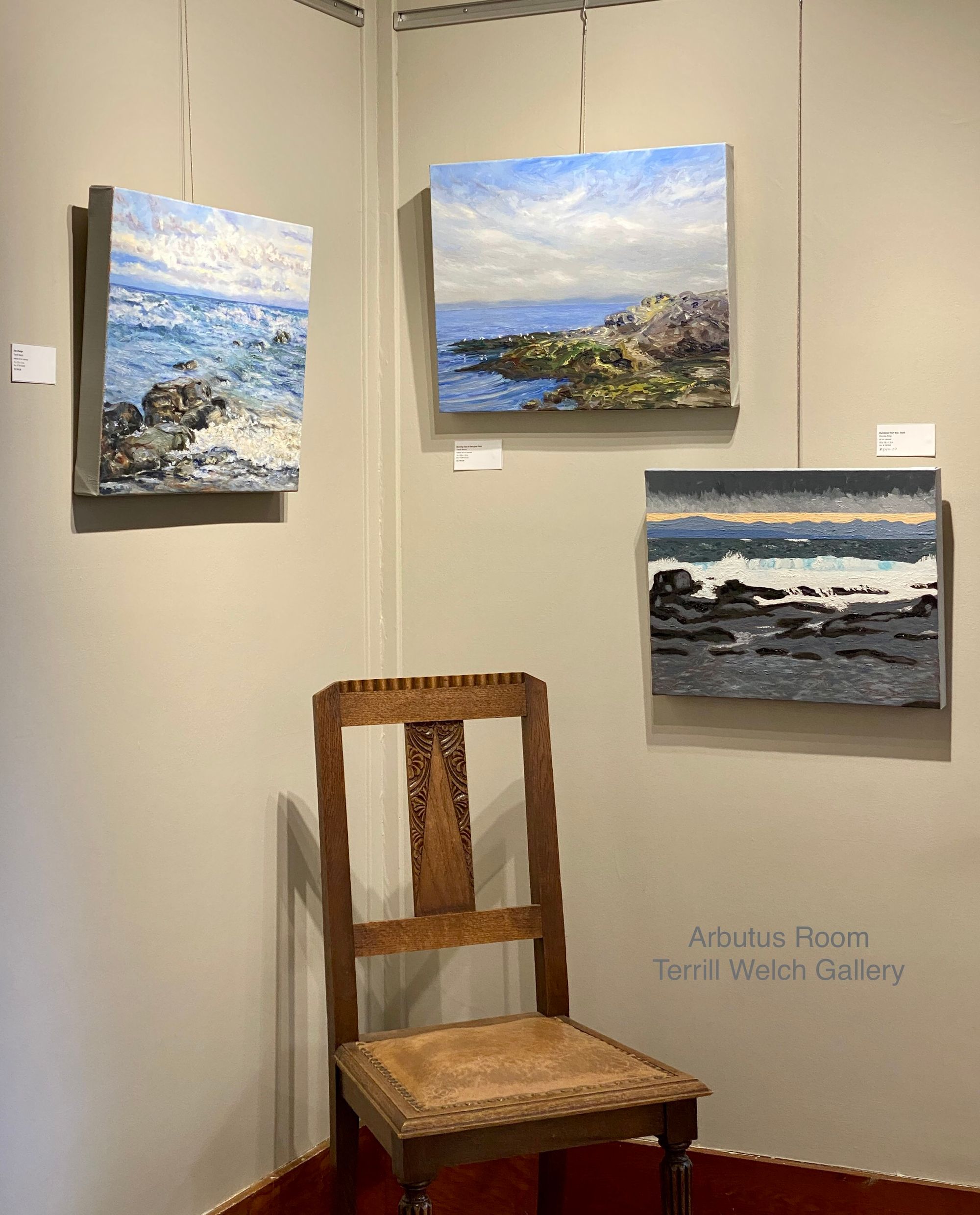 In the opposite corner, back near the sliding glass doors, we notice an almost abstract seascape and an immediately recognizable view from Edith Point looking back towards Reef Bay along the Strait of Georgia, also by me.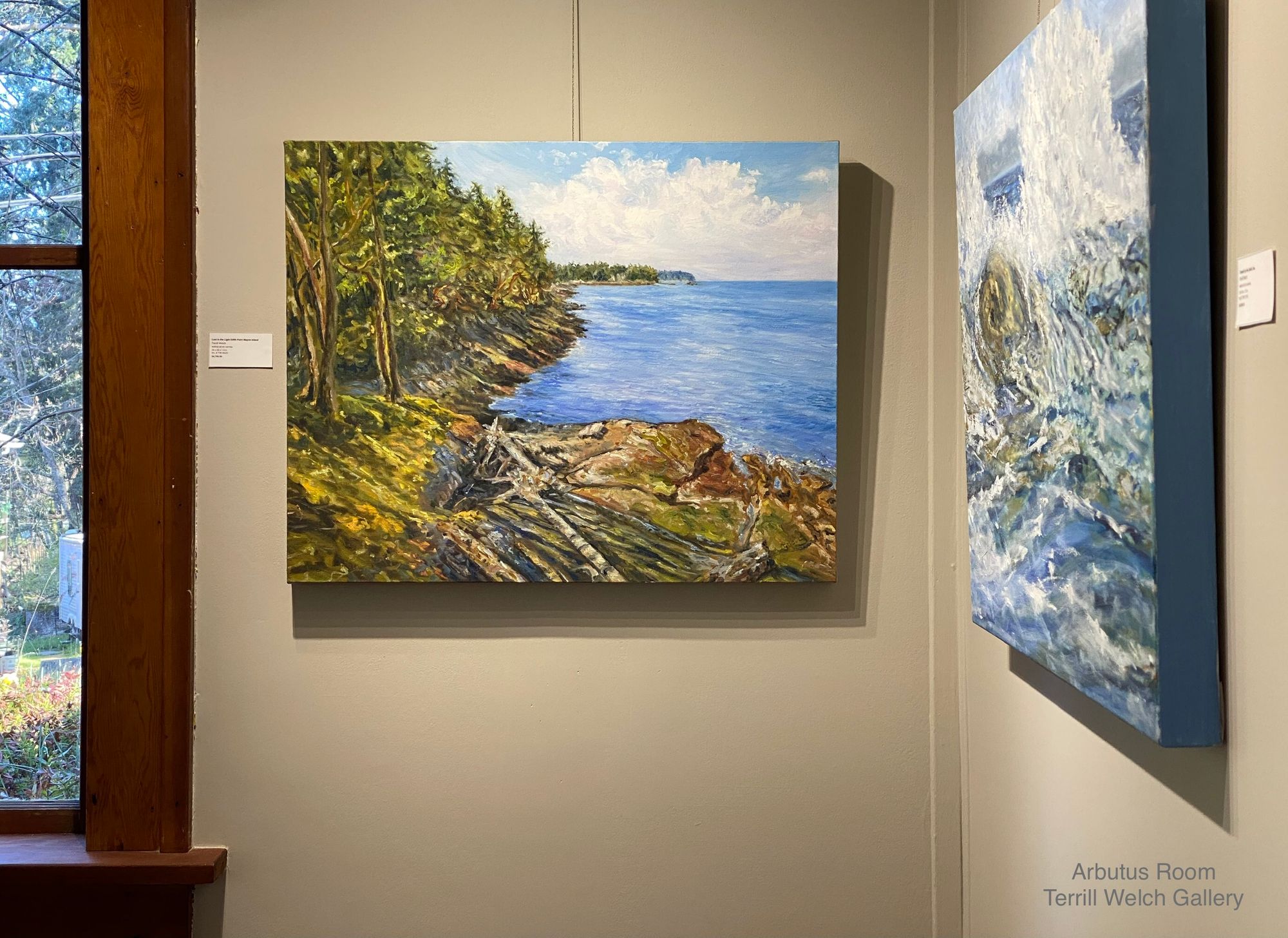 We walk across the room, turning one last time to glance left over our shoulders, before sanitizing our hands again and checking to see how many people are in the Dragonfly arts and crafts store. Maybe we ask Vania Williams for some help with purchasing our chosen painting or if you are truly really with me, we might go to the second gallery room and browse what are on the walls in the Garden Room. Possibly, you thank me for my time and continue thinking later on about your "art gallery date" and then pick up your device and go to the online gallery to look again. Whatever you decide, will be just right and just right for us!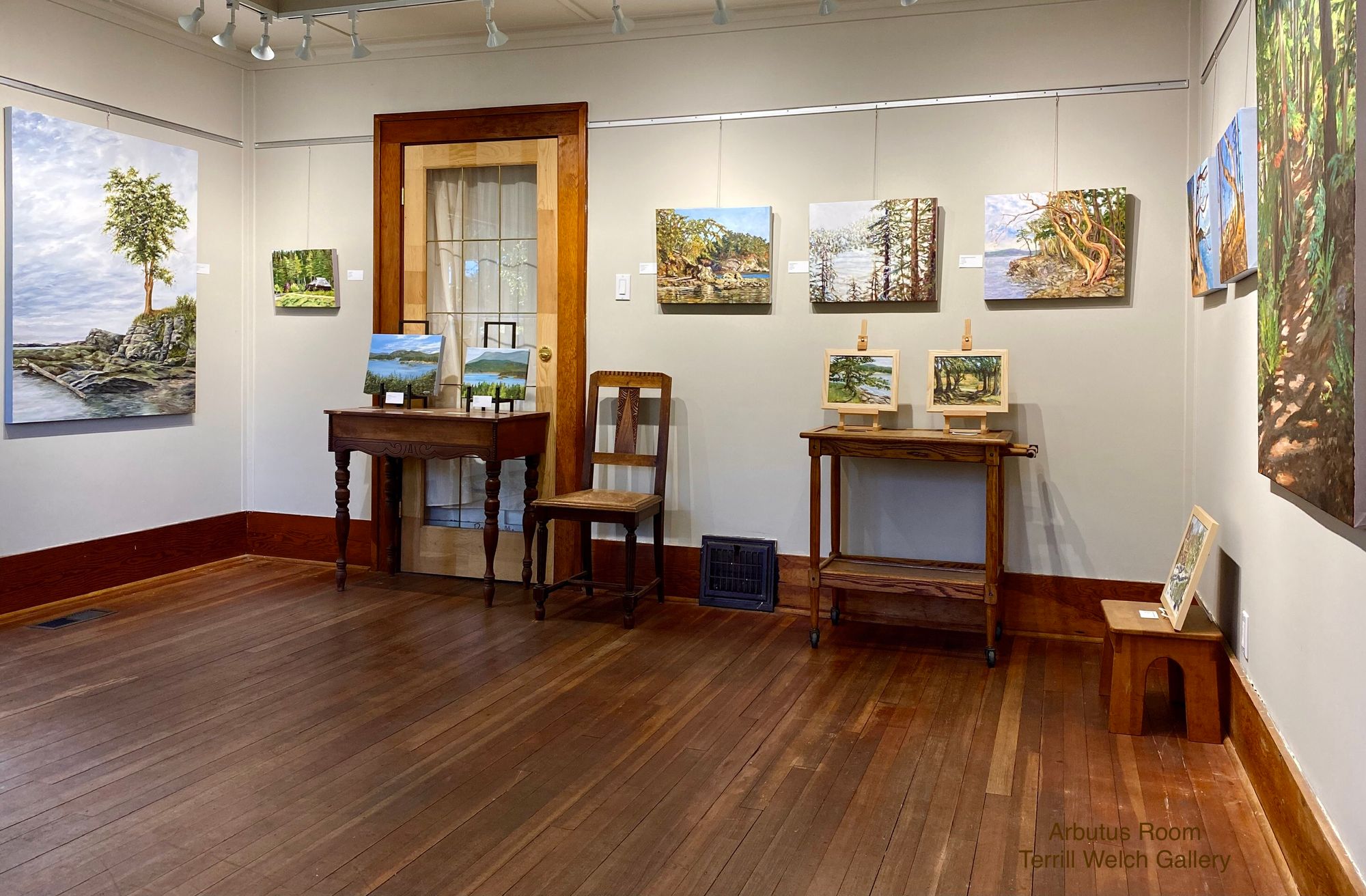 Now wasn't that fun!? Say "yes, Terrill, it was fun!" 😊
Framing a Collection of Terrill Welch Paintings
An art collector wrote to me this week and shared how she has framed her collection of small Terrill Welch Paintings. Sometimes art collectors have a theme for their framing choices and sometimes they work with a framer to find just the right frame for a specific work. This art collector is of the latter practice and what a beautiful job they did in presenting these works that hang in the private bedroom office space of the collector where she notices them everyday...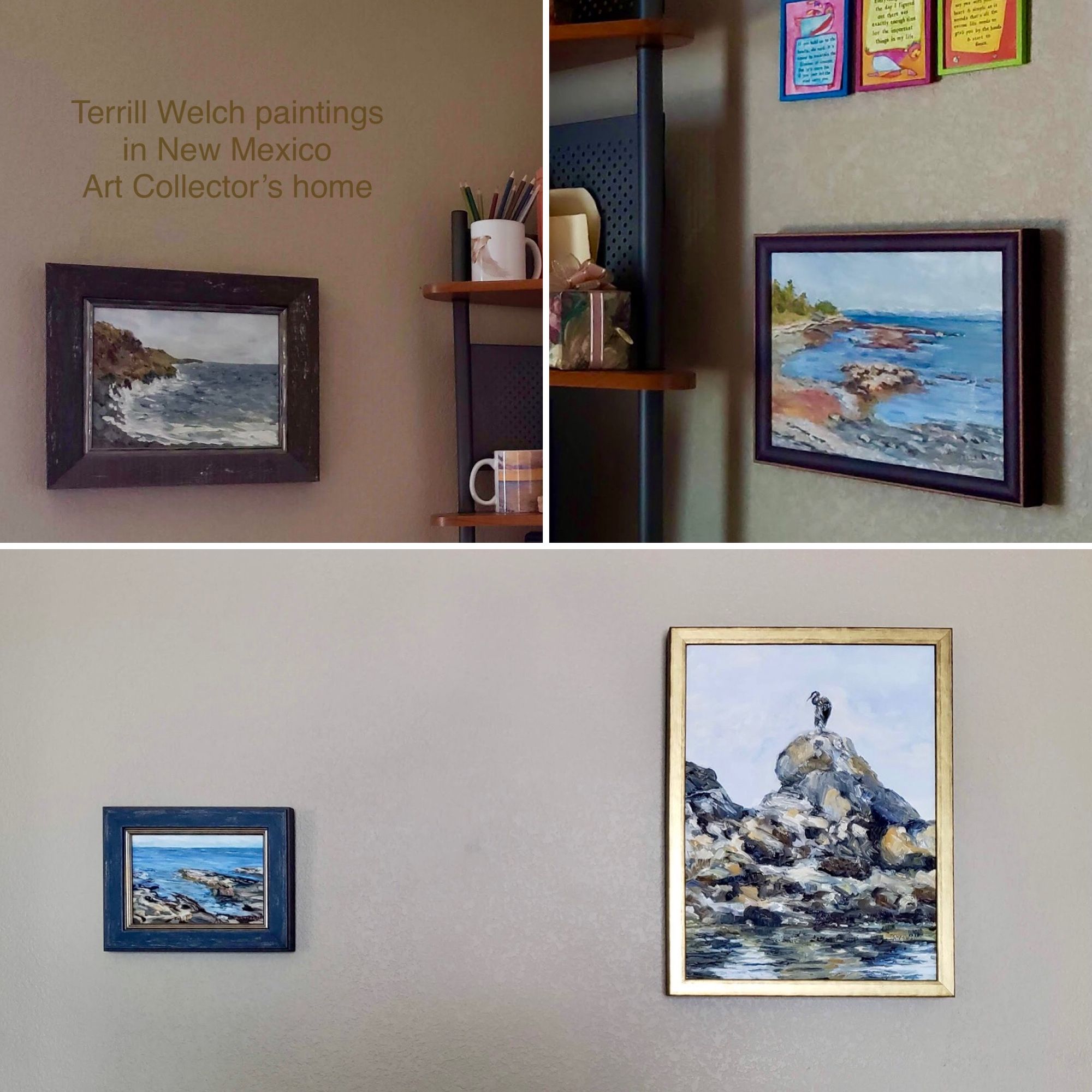 New Release
This latest painting has no recent cousins from the same geographic location and comes from dreams and memories as much as anything. So, it is going to need to stand alone in this year's work, at least so far.
"Dancing by the Water" by Terrill Welch, walnut oil on canvas, 18 × 24 inches.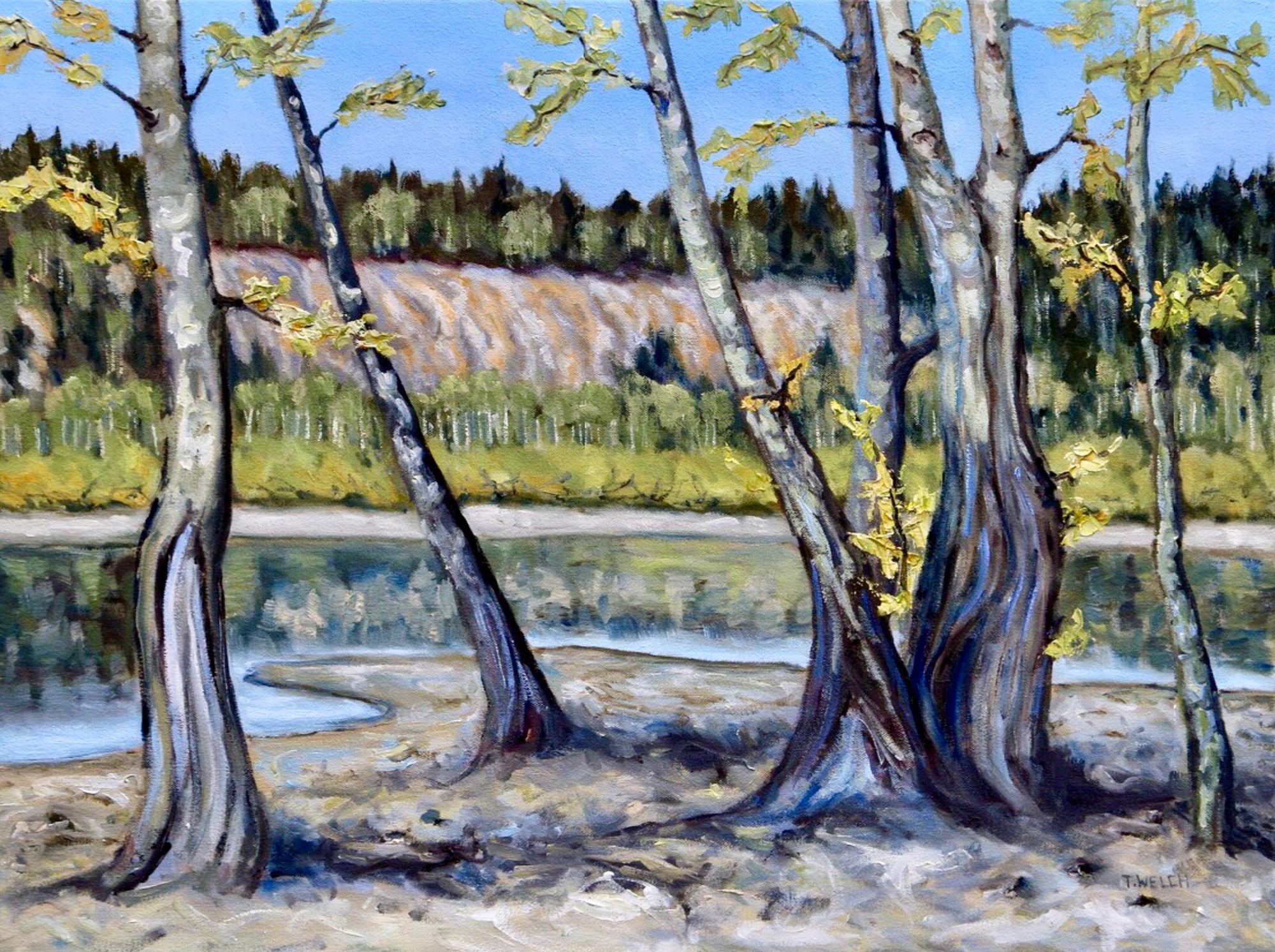 Available for sale from Terrill Welch Gallery, Terrill Welch, Dancing by the Water (2021), Walnut oil on canvas, 18 × 24 in
Artist notes: There is a place remembered only in a old water colour painting and dreams about a long weekend in August 1994. The dream and the painting take us from along the Stuart River to Honeymoon Island on Stuart Lake. The cut banks are from along the river and the popular trees are dancing on the lake shore. This is not possible in real time. Only in dreams and paintings.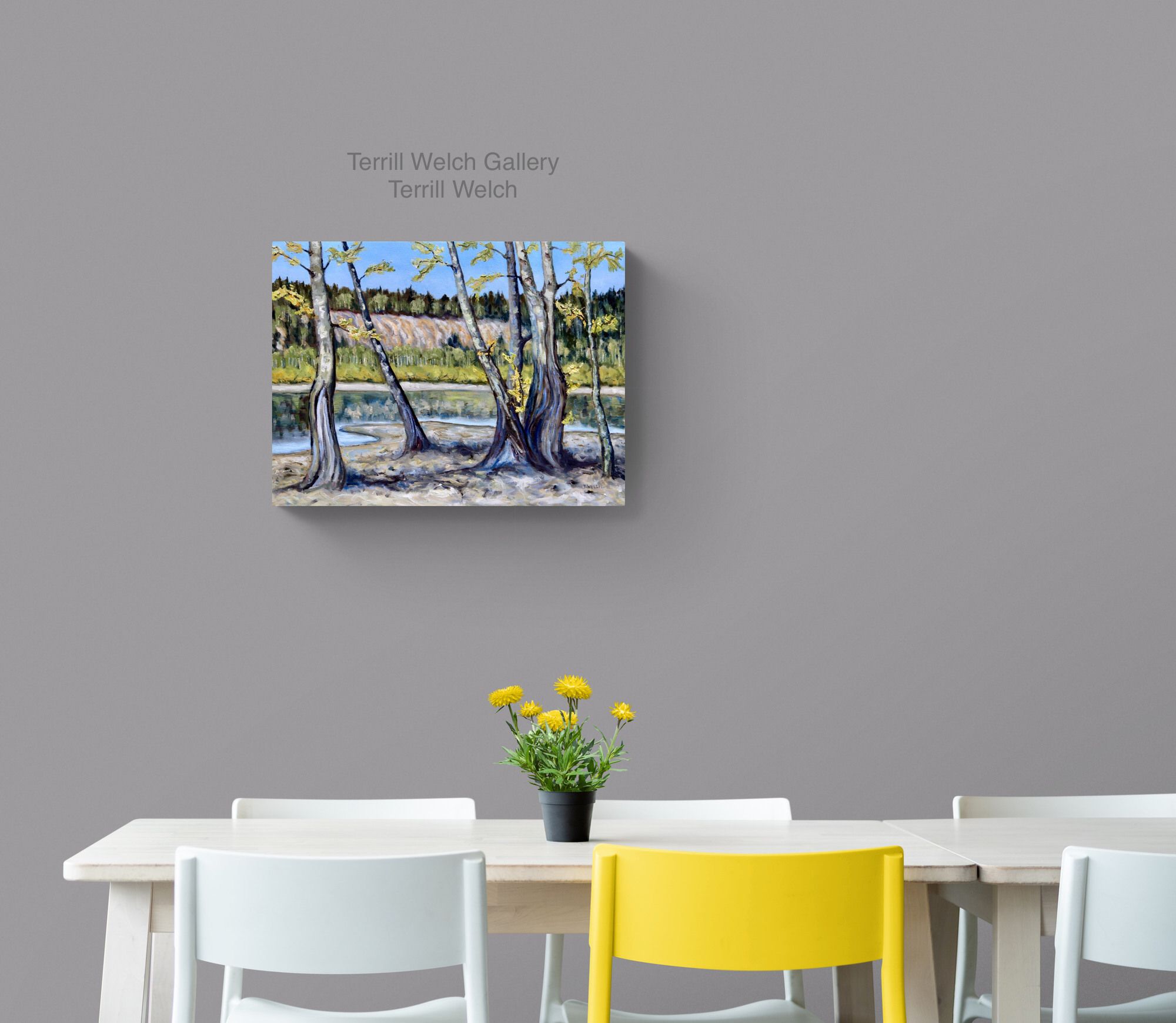 What I am watching and reading
Recently we watched a BBC documentary "Becoming Matisse" from April 2020 about Henri Émile Benoît Matisse that focuses on how his family influenced his art with the lead researcher and host being his great granddaughter Sophie Matisse, also an American contemporary artist. I think it might possibly be the best documentary I have seen about the Matisse and it was uploaded on YouTube by Ian Layugan for academic purposes. So we are going to take this opportunity to tag along and learn as well.
Uploaded for academic purposes.
If you are intrigued by the documentary, then I suggest finding a copy of "Matisse: In Search of True Painting" edited by Dorthe Aagesen and Rebecca Rabinow and published by The Metropolitan Museum of Art, New York, 2012. This incredible catalogue of images and essays seems to naturally follow up from where the documentary leaves off.
Matisse: In Search of True Painting [Rabinow, Rebecca, Aagesen, Dorthe] on Amazon.com. *FREE* shipping on qualifying offers. Matisse: In Search of True Painting
Studying the work of those that came before us and "the masters" is part of the ongoing work and learning of most painters, artists and art collectors because it is how we make sense of the influences in the present. We dig into past great works as we seek clues about where we are going or maybe to try to solve an immediate creative problem that is perplexing us. Even a painter like myself, who is first and foremost influenced by the landscape itself, finds solace in the struggles and triumphs of past painters. There is additional substance and depth when we bridge our knowledge across and through time. As art collectors, we better understand contemporary artist by understanding those they are influenced by and who they seek out when challenged.
Elena Maslova-Levin has taken great care in developing a process for more deeply viewing a painting and in our next issue I am hopeful that we will be able to invite you to a bonus Zoom call she will be hosting to take us through this process in relation to her current online exclusive solo show with the Terrill Welch Gallery.
Until Next Time
Thank you so much for your ongoing support of the gallery and the work of artists represented! The sun is shining and it is starting to get warmer here on Mayne Island. There may even be more plein air painting in the near future. But regardless, we wish you all the best until next time!
Terrill 👩‍🎨🎨❤️
Our gallery program brings extraordinary connections to ordinary moments in our natural landscape. The Terrill Welch Gallery opened in August 2017. Since then, the gallery has more than doubled its physical gallery exhibition space and online reach.