A Brush with Life - Issue #77 Promises and Edges
When we take on something new or we let something go, there are always shifts and changes in the familiar rhythms of our days. The studio lives of artists are intimately familiar with these shifts. Sometimes, we even welcome these changes because cracks of unexplored creativity are exposed, pale and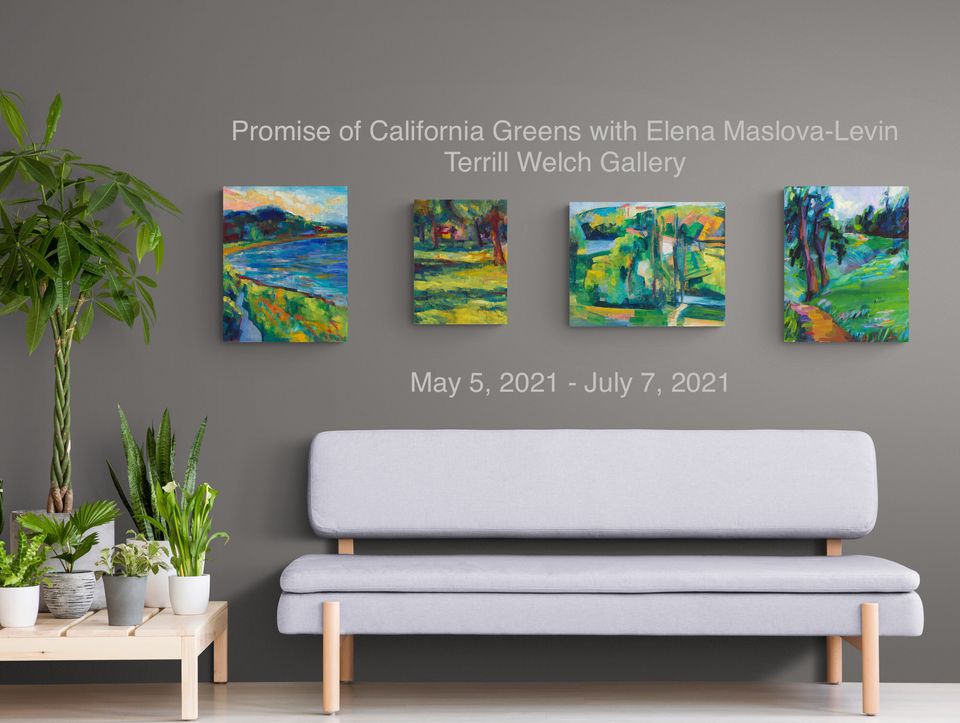 When we take on something new or we let something go, there are always shifts and changes in the familiar rhythms of our days. The studio lives of artists are intimately familiar with these shifts. Sometimes, we even welcome these changes because cracks of unexplored creativity are exposed, pale and transparent they spring up to the surface of existence ready for transformation. But, welcomed or not, the one thing we know for sure is that shifts and changes will continue to happen anyway. This past year has seen us all strengthening our resilience layer as many of our unraveling assumptions are tangled in amongst hopes and dreams. Yet, when I look to the sun and the moon and the promise of spring greens, a calm confidence in my own ability to be flexible - to be like droplets of water sliding through the snow in the mountains on my way to the sea. I know I can do this. I know we can do this. In this, there is an even greater conscious experience of no two moments ever being the same and yet, also a greater understanding of the intimately connectedness of the whole. I imagine living and painting lightly with the strength and energy of a Sufi dancer, into our infinite impermanence. Which brings us to sharing a new solo exhibition opening on Wednesday this week and other studio and gallery news.
---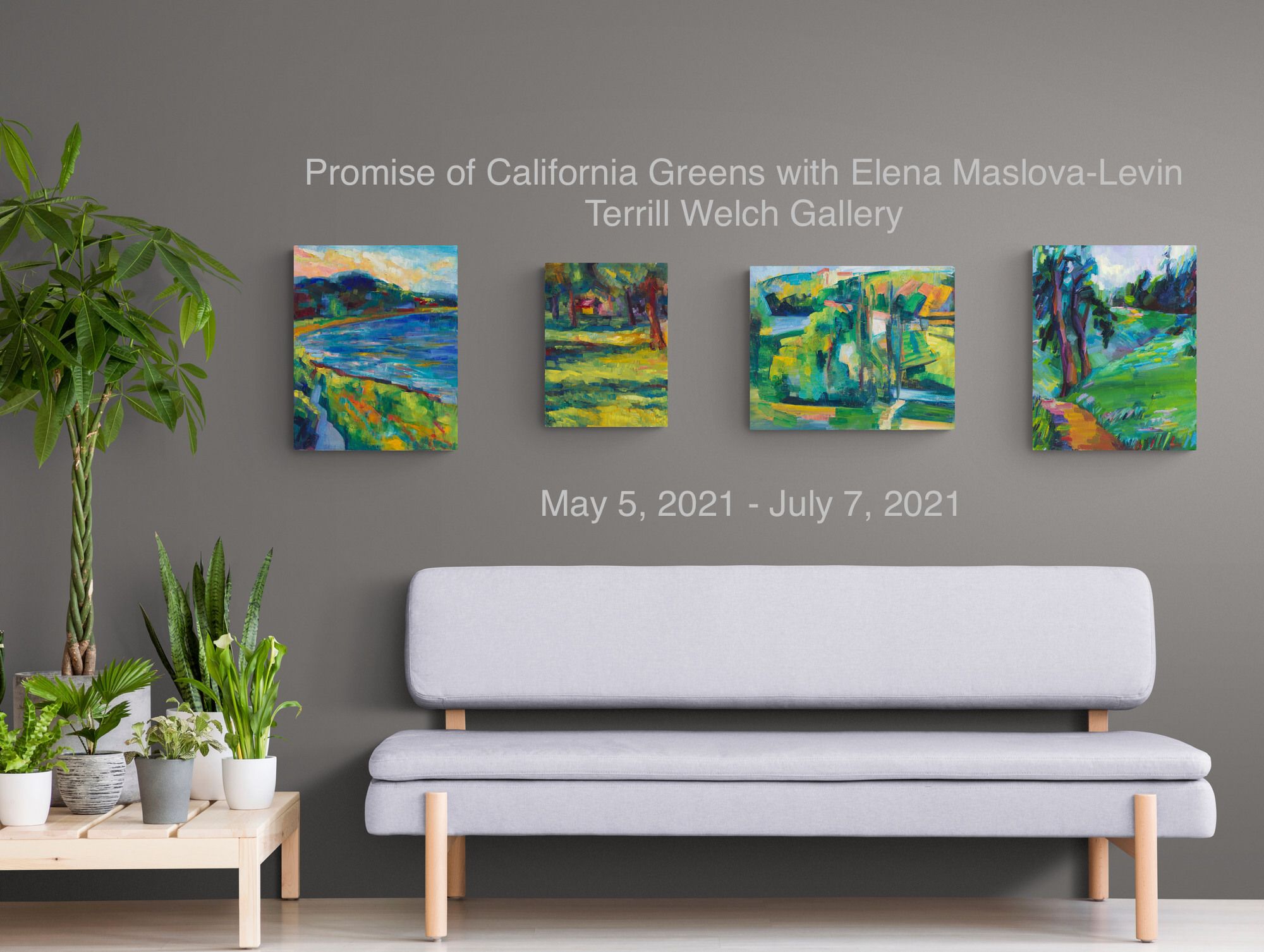 When we sit with Elena Maslova-Levin's work, there is a deepening awareness of how we might construct our visual understanding based on past experiences, be they from life, other paintings or prose and poetry.
Promise of California Greens
Opening on Wednesday, May, 2021 is our online exclusive solo exhibition "Promise of California Greens" with Elena Maslova-Levin at the Terrill Welch Gallery.
Elena Maslova-Levin brings her studied eyes to bridge the early California greens of her landscape with lessons from historic master painters. When we sit with this solo exhibition of Elena Maslova-Levin's work, there is a deepening awareness of how we might construct our visual understanding based on past experiences, be they from life, other paintings or prose and poetry. She reminds us to be curious about how we experience the world around us and its conscious and unconscious influences. This exhibition covers selected paintings between 2011 and 2018. Like most individuals, Elena Maslova-Levin's work includes more than one practice. However, for this online exclusive solo show "Promise of California Greens" with the Terrill Welch Gallery, we are focusing on her relationship to landscapes in her painting practice.
Works from this exhibition will ship from Fremont, California in the United States. The Terrill Welch Gallery welcomes this opportunity to present Elena Maslova-Levin's landscape oil paintings to you in our online exclusive solo exhibition program. As, usual, please use the "inquire" option for a specific work if you have a question or would like to purchase a work or email or message or even reply to this newsletter. Whatever works for you, works for us.
When we sit with Elena Maslova-Levin's work, there is a deepening awareness of how we might construct our visual understanding based on past experiences, be they from life, other paintings or prose and poetry.
Sign Up For A Conversation with the Artist
We have a unique and rare opportunity to have a conversation about art with Elena through Zoom on Saturday, May 15th at 10:00 am PST. "Fourteen Shades of Green: the dance of life in every blade of grass". Learn more and sign up by clicking on the link below...
As an artist and as an art lover, I love to cultivate and explore the magic space of synergy and inter-being Art creates and opens for us.
Edges Up with Terrill
Since we are in a circuit breaker, essential travel, only event until after the long weekend, that is backed up by $575 fines for non-essential travel outside of various health regions, our island is winter-time quiet. A good time to get more painting done! At least, this was my thought this past week, possibly even one of those dreaded plans.
Let's just say, it has been one of those weeks. I started off selecting a canvas with a ground on it to start a new painting. Once I had done that, things went sideways because it needed a hanging wire.
Tell me, do you ever have times like this?...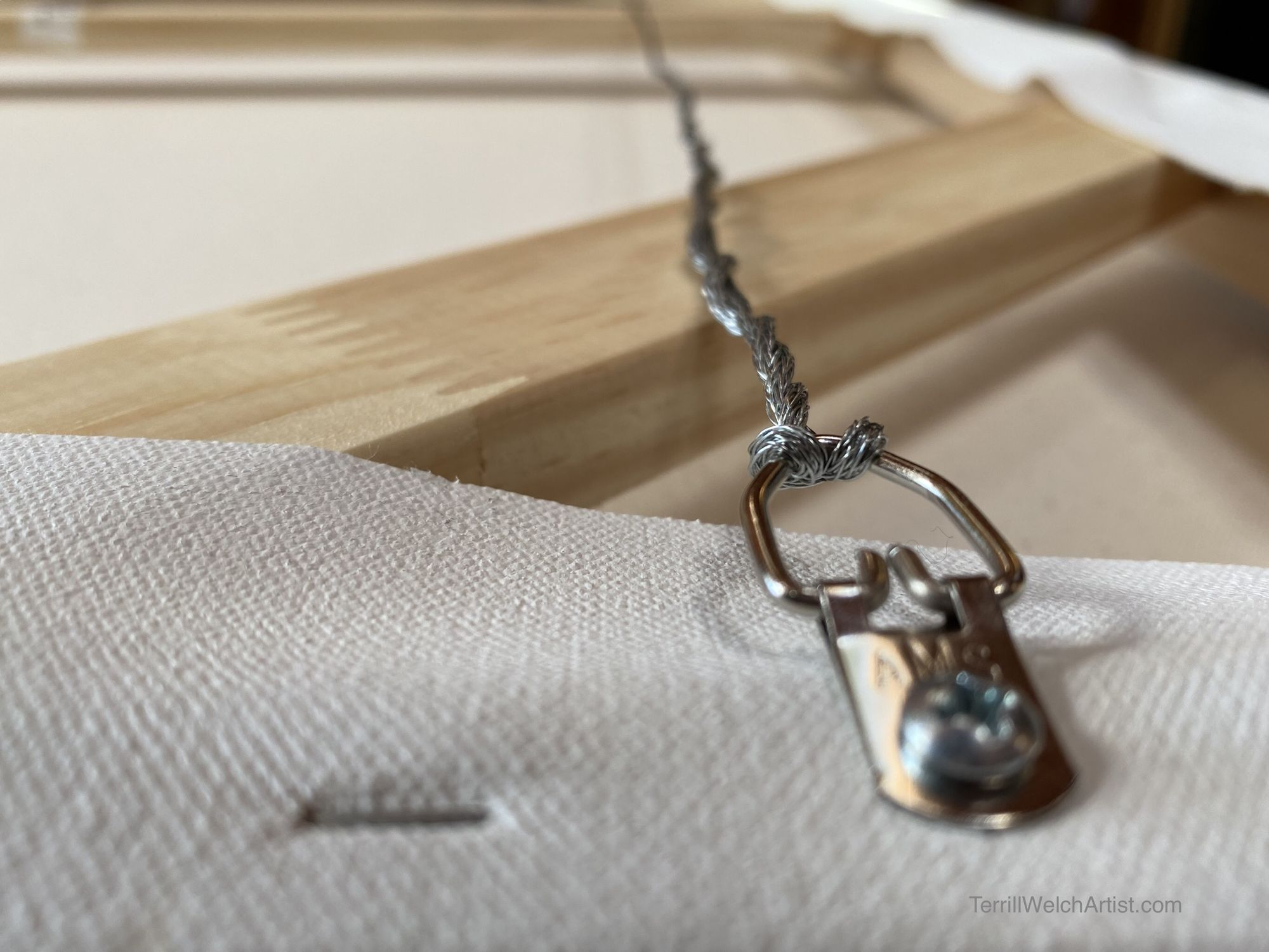 Since I had everything out, I put on five hanging wires. As I was doing this, I put the paintings that still needed their edges painted in the hallway.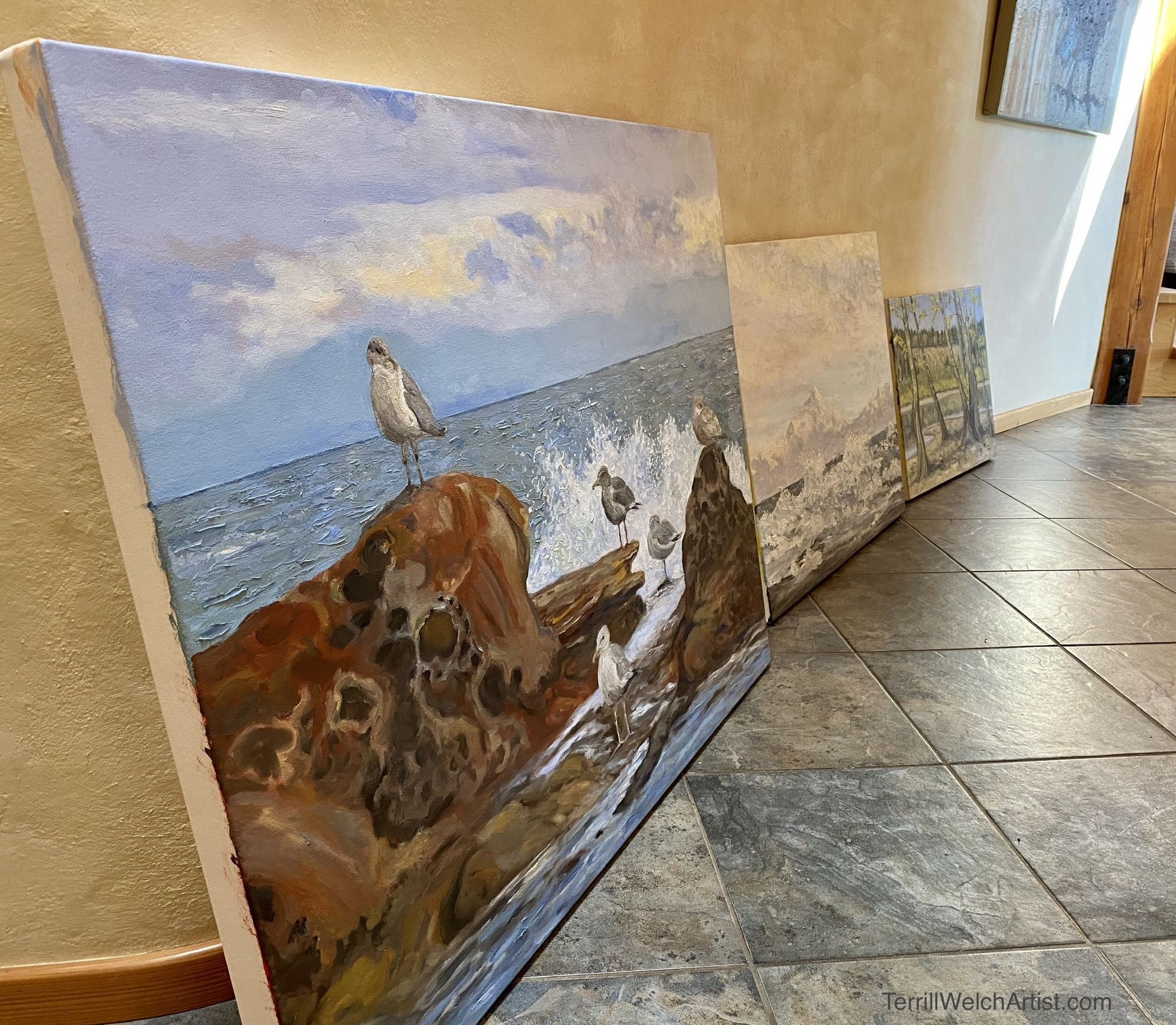 At the moment, the gallery rooms seemed like the best place to paint edges. So I loaded the painting in the car and off I went to get them set up there and painted.
One on the large desk...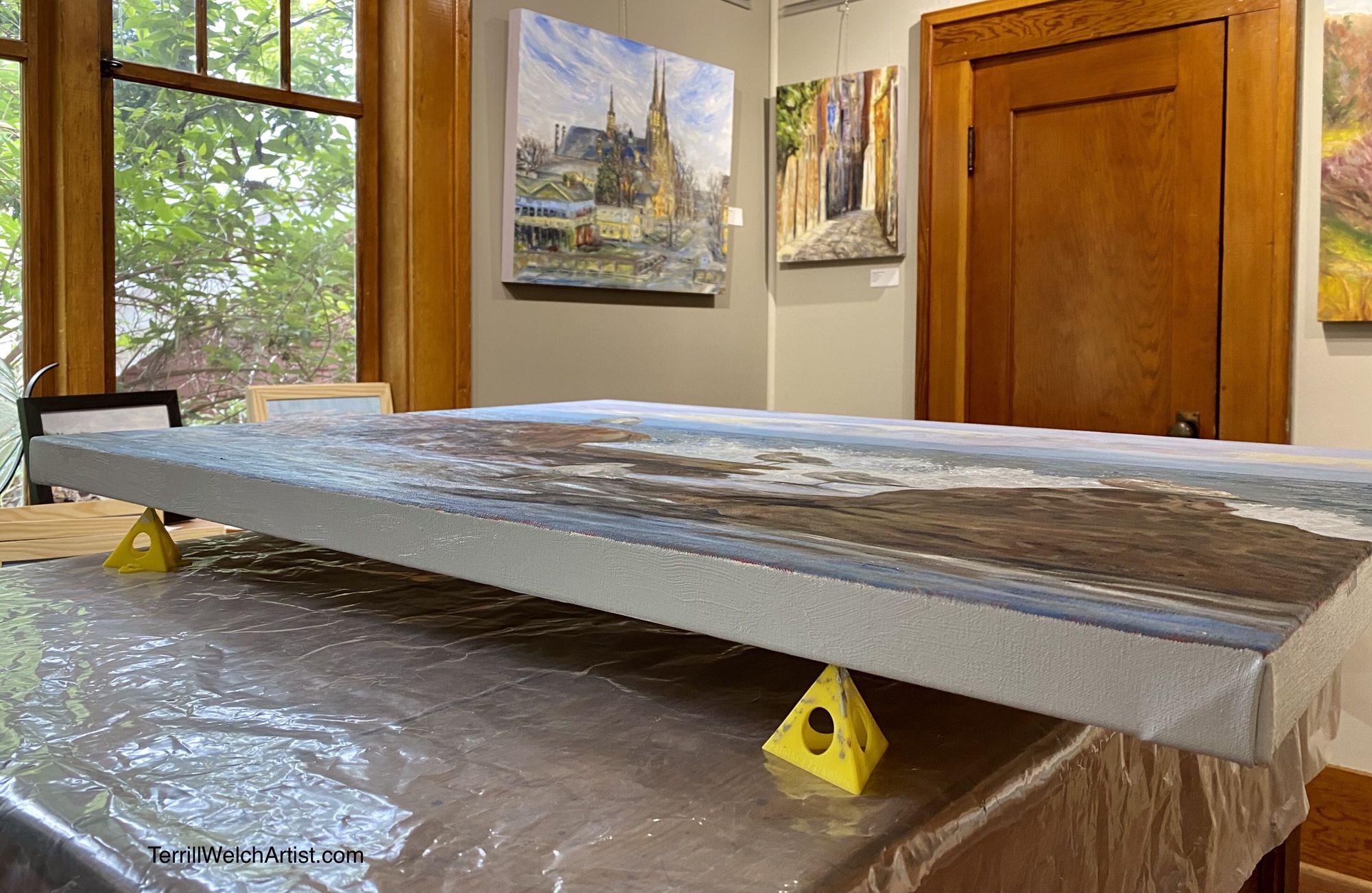 And one under the window....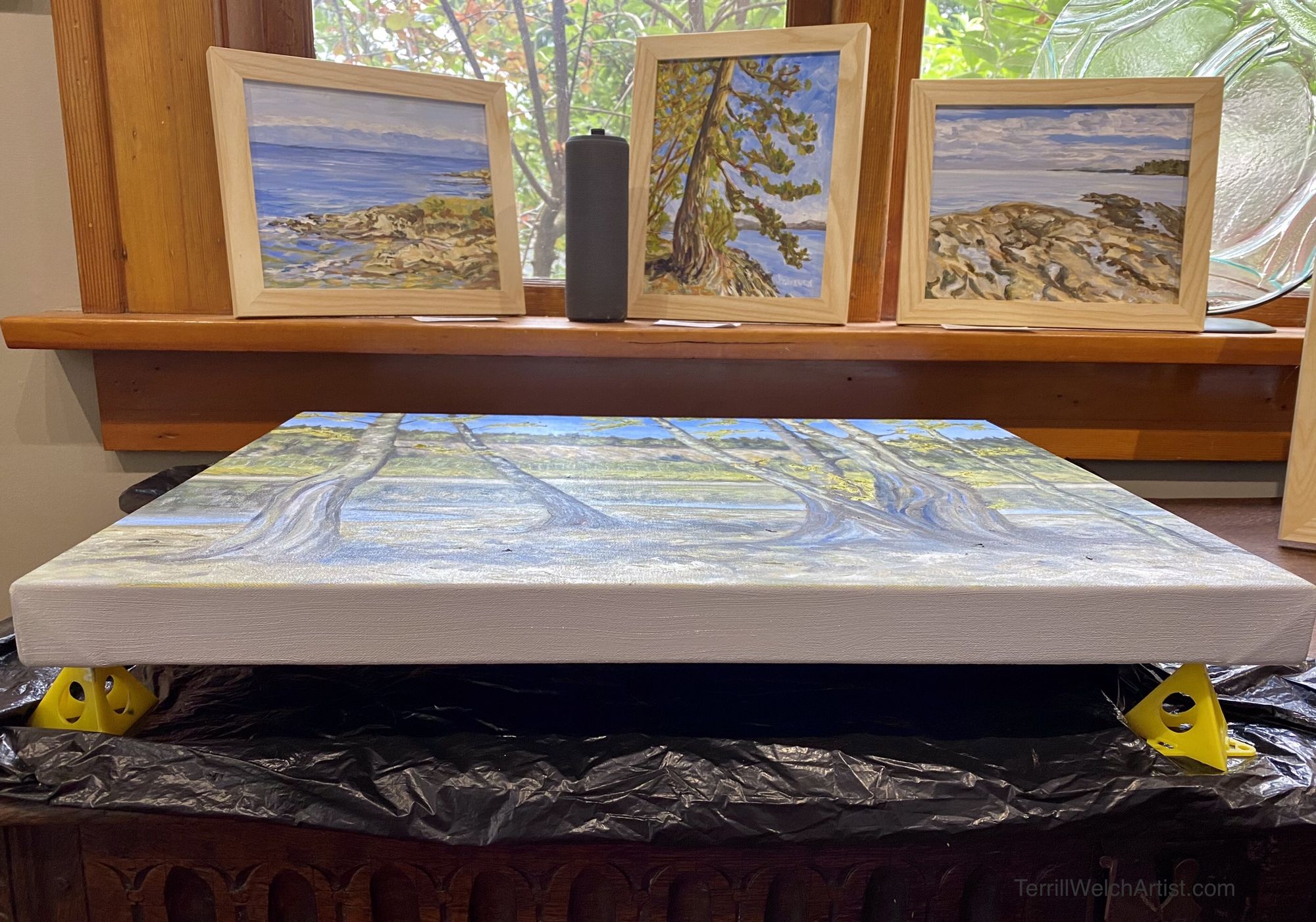 And the final one on the tea trolley in the Arbutus Room.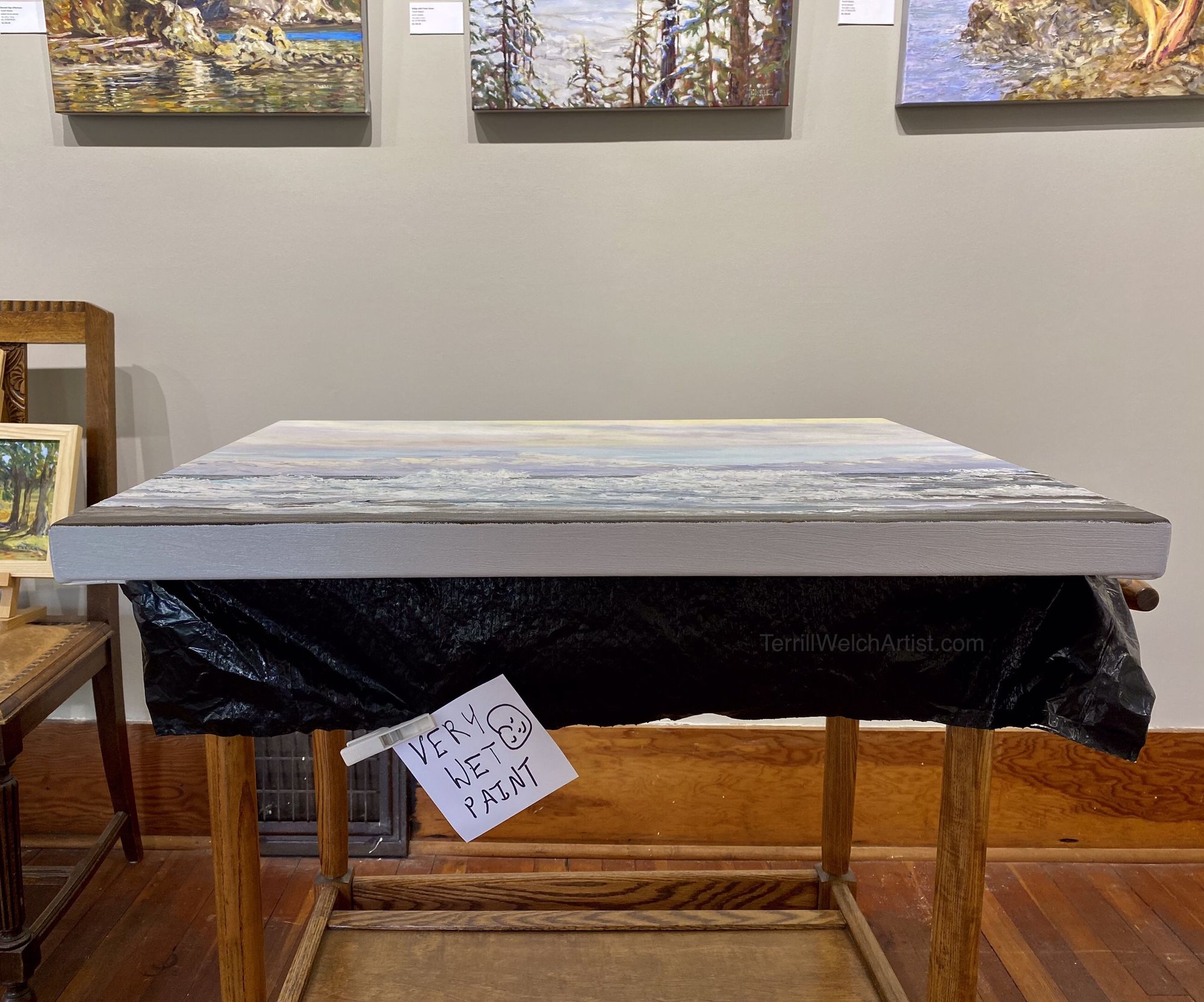 Now, a whole day later, I can start on my new canvas... after the newsletter is drafted and scheduled to publish for you to receive this morning.
And if you keep reading along, I will tell you what happened after this. 😉
The Accidental Curator's Interview with Terrill
We have something a little different. This is a podcast interview with me by George Bathgate who does these amazing and unique Episodes alongside his Mayne Island Shavasana Art Gallery & Café which, unfortunately, has remained close for more than year as we wait for better times. However, this hasn't stopped George from continuing to find an intriguing way to connect with his audience. I am honoured and thrilled to recently have had a chance to sit down and chat with him for a little less than an hour. Grab your coffee or tea or download it to listen in the car and enjoy!
An interview with internationally acclaimed Contemporary Impressionist painter Terrill Welch
Updates From Art Collectors
We have recently received updates from art collectors sharing where they have hung their "Terrill Welch" paintings. The first, is a the chosen placement after a recent move for "Hope For A New Day".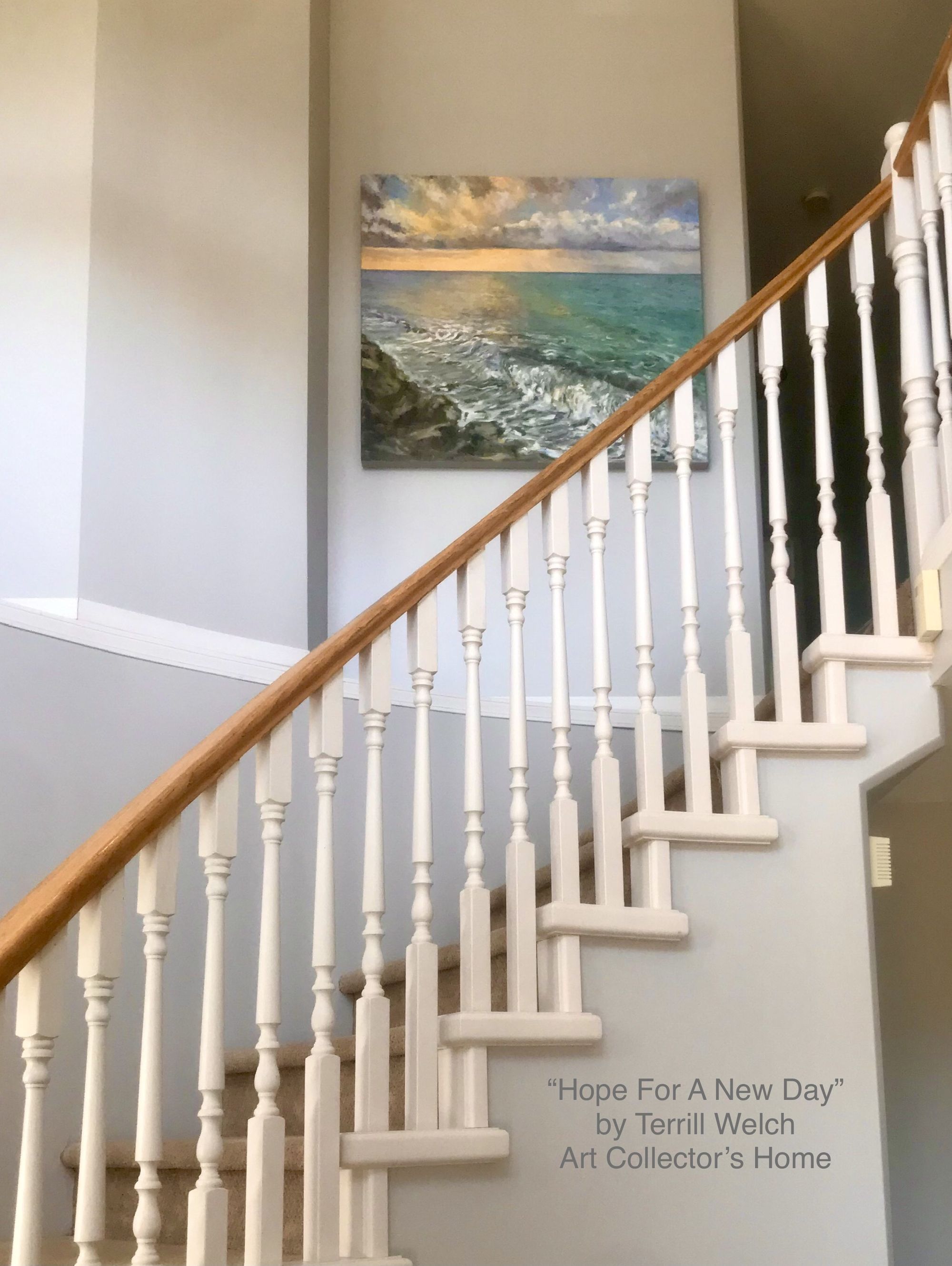 The second is a collection of small works which includes the painting sketch for the larger work above. This art collector also recently moved and is thrilled to choose places to hang her "Terrill Welch" paintings.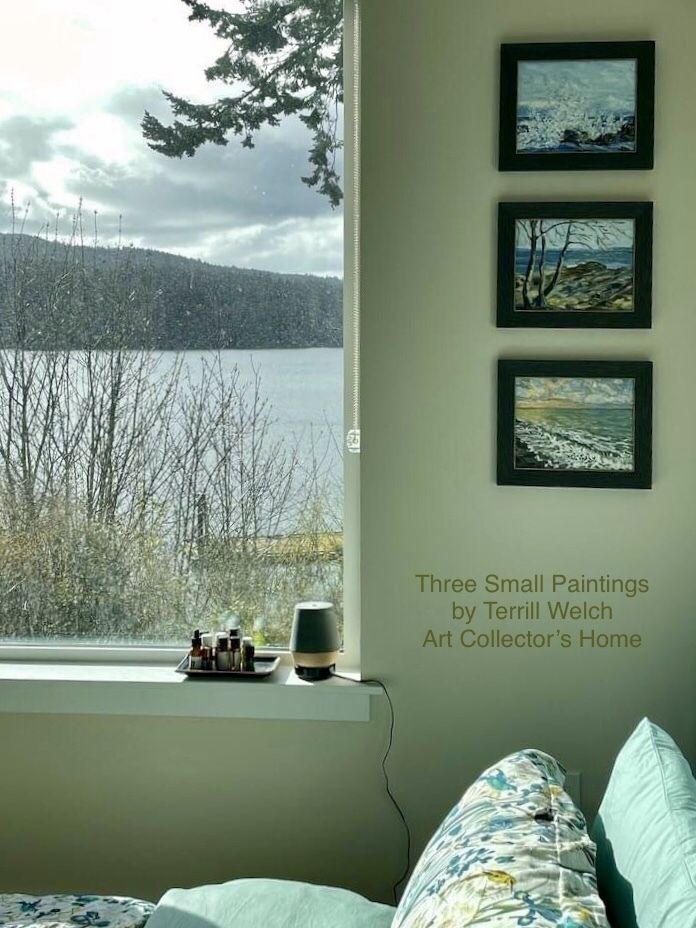 So there you go! If you would like to share where you hang your original paintings by any of the gallery's artists, please send us a photograph that shows them in the best light possible and we will be more than happy to share them here with everyone.
New Release
You will likely recognize this painting from the last issue and we can now let you know that it has been released.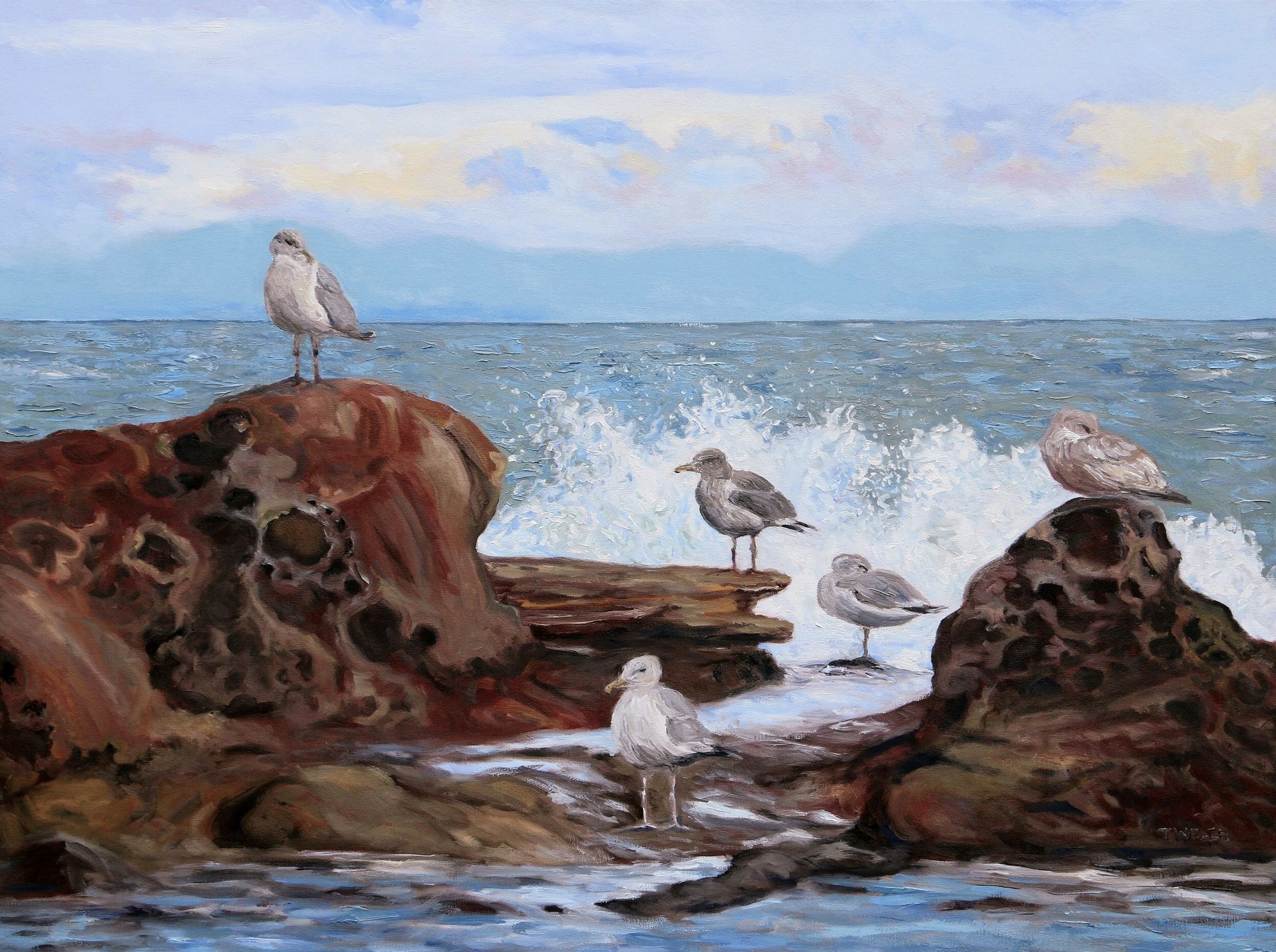 For more information or to inquire to purchase, click the link below...
Available for sale from Terrill Welch Gallery, Terrill Welch, A Gull's Day (2021), Walnut oil on canvas, 30 × 40 in
Around the Island
Mayne Island is in mids of Spring's bounty of delights from cherry blossoms in our Japanese Gardens...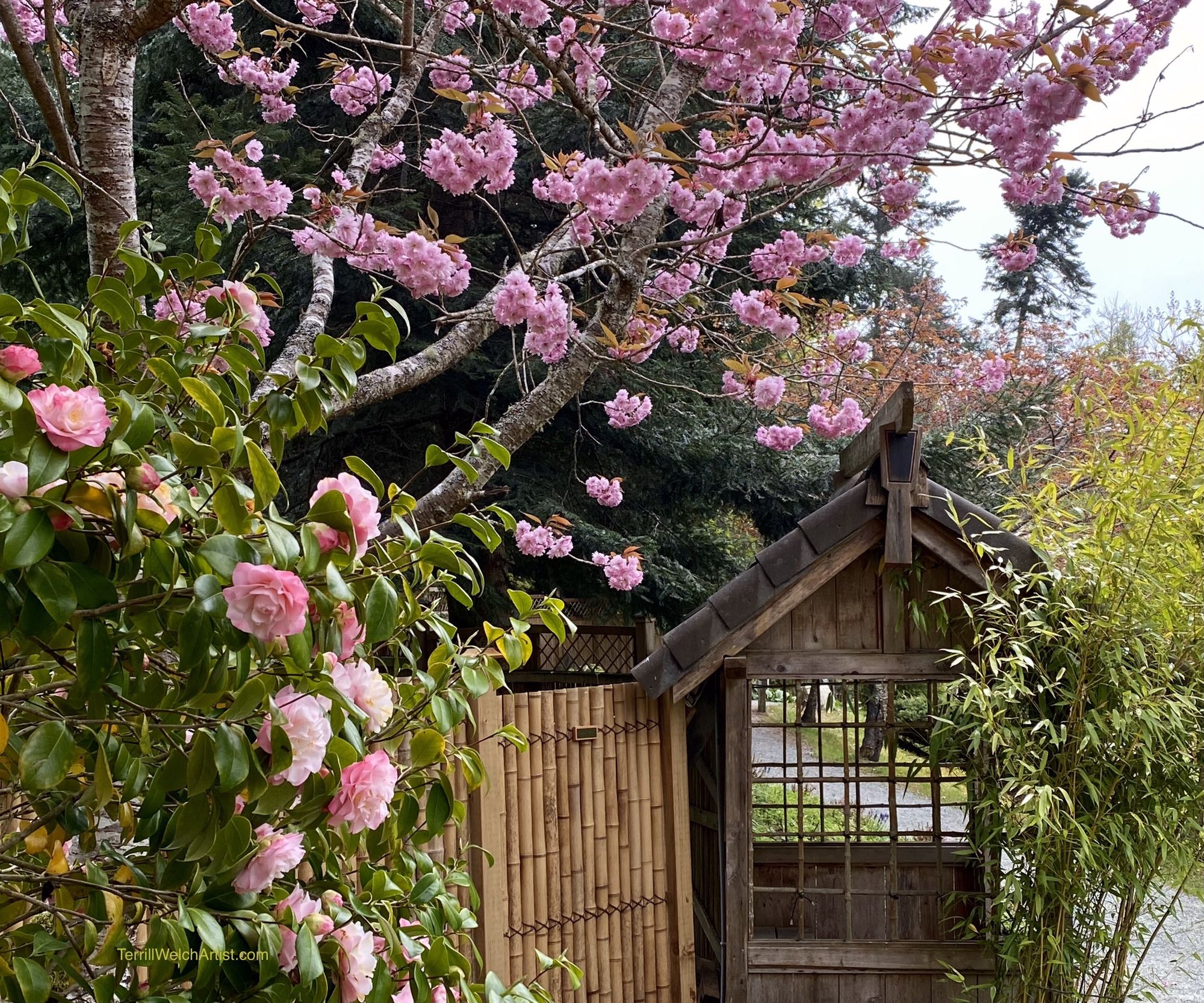 Wild flowers along our northern slopes....
White Fawn Lily
Quiet rain,
Drifts on misty tendrils through ancient trees.
Soft white lanterns light the forest floor.
I keep walking.
~ Terrill Welch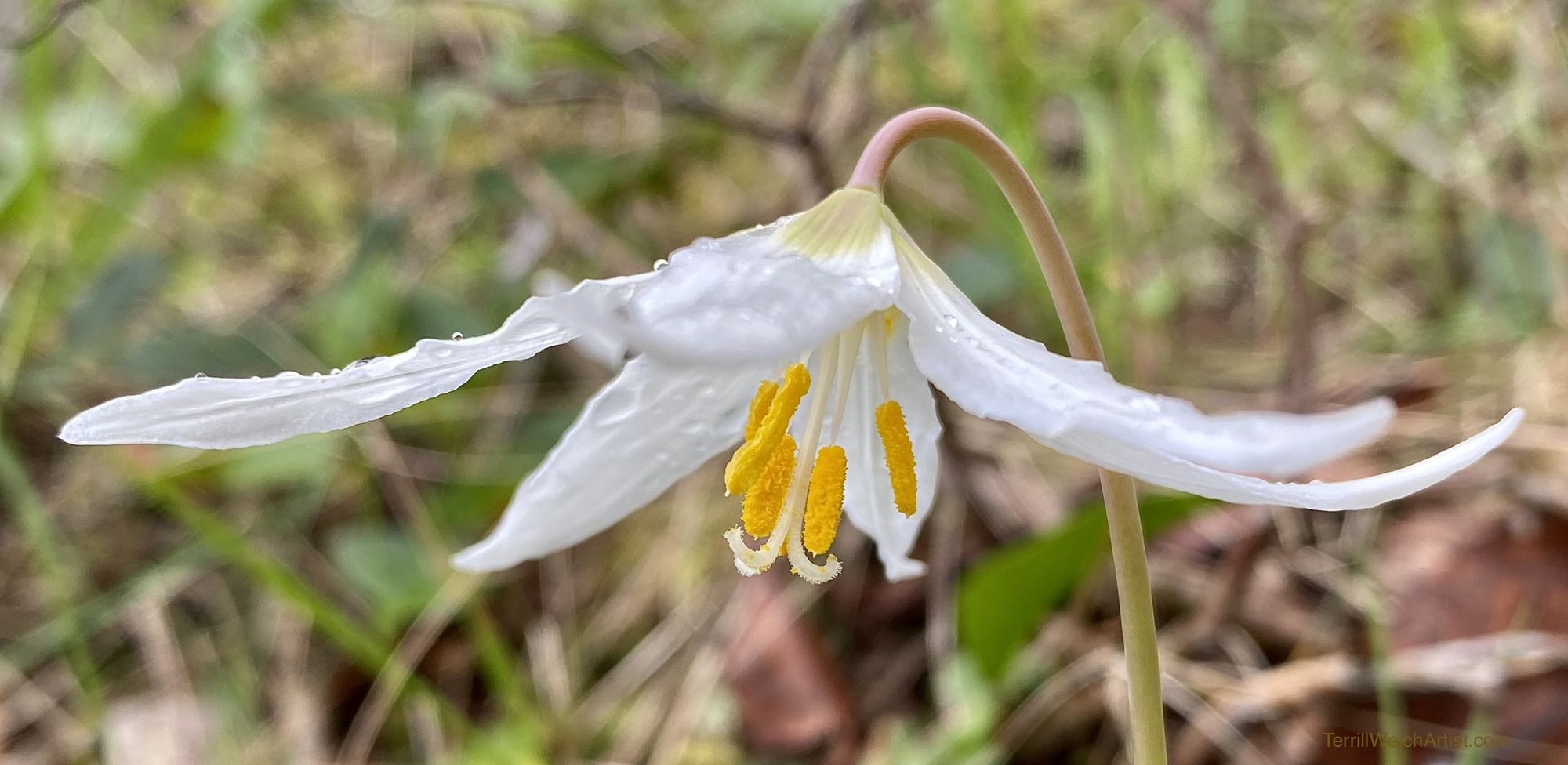 And longer evenings...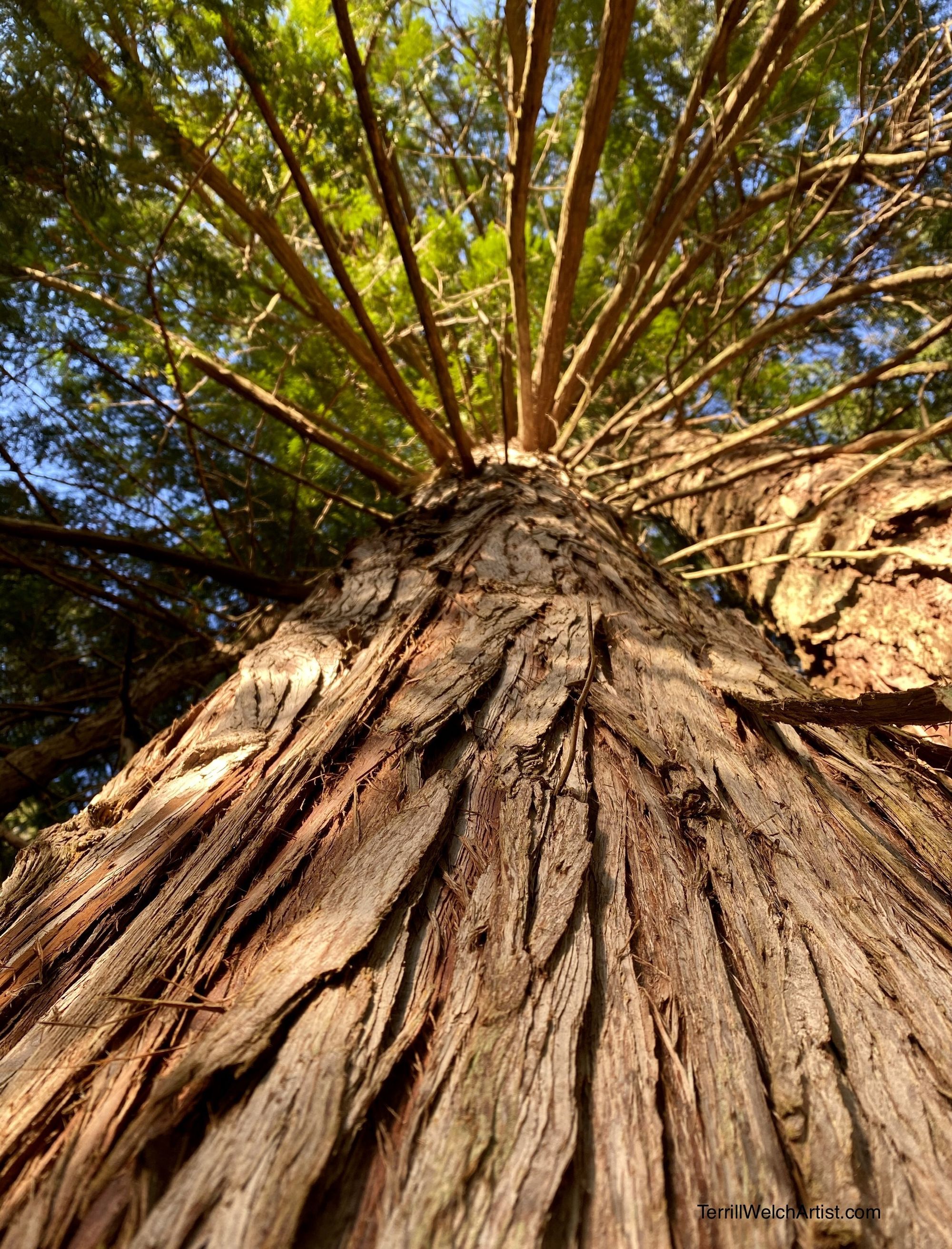 When Islanders Rest
Into the night we slip,
through the golden hour with forest trees,
deeper into the gloaming next to the seas.
A nighttime of frog and owl songs in our moonlit dreams.
~ Terrill Welch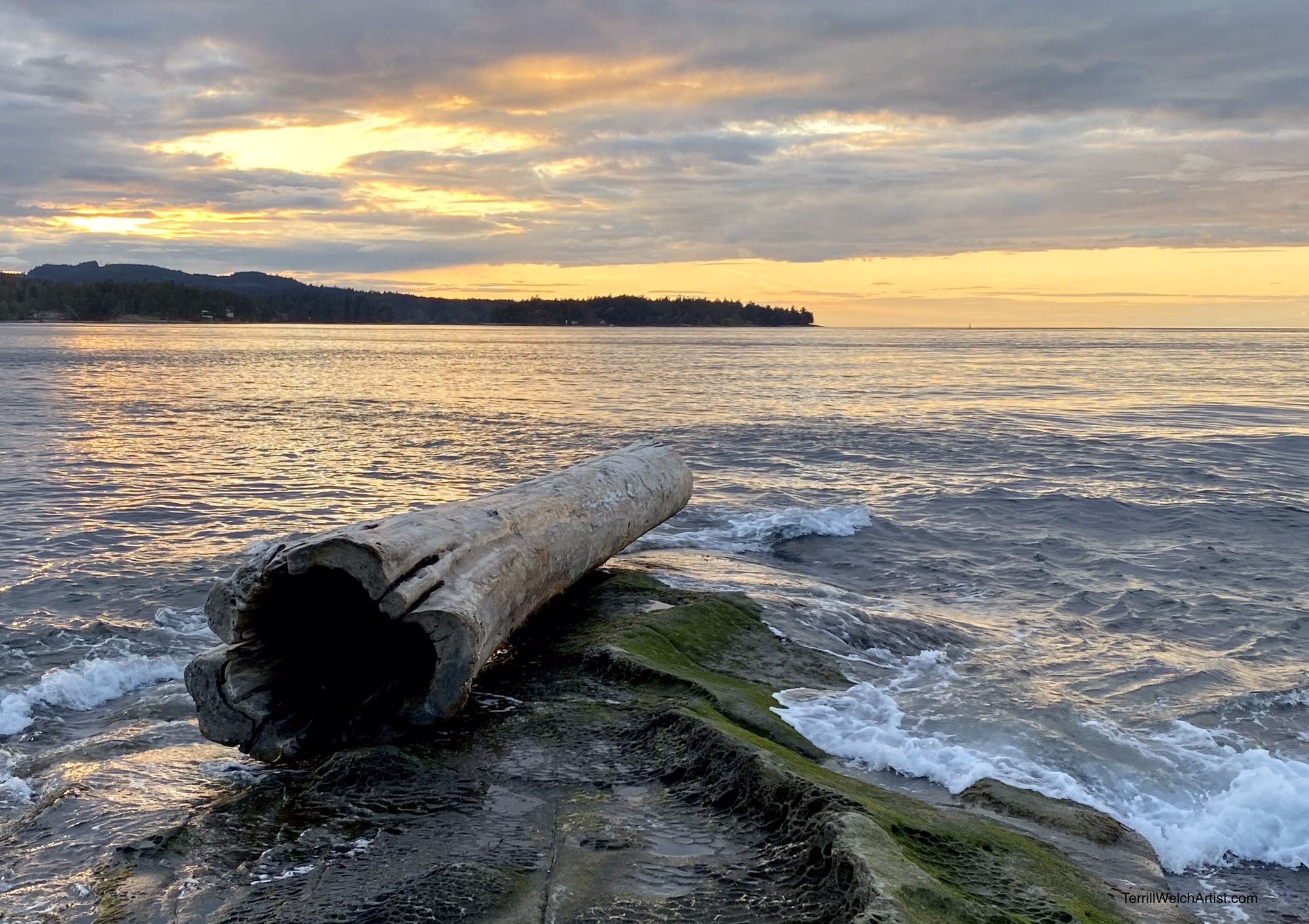 What Has Sold
A small Terrill Welch painting sketch is off on its next adventure with long time Mayne Islanders. We know this glimpse of Active Pass will bring back fond memories for these recipients.
Sold - "Endless Summer Cotton Park" by Terrill Welch, 8 x 10 inch acrylic on gessobord.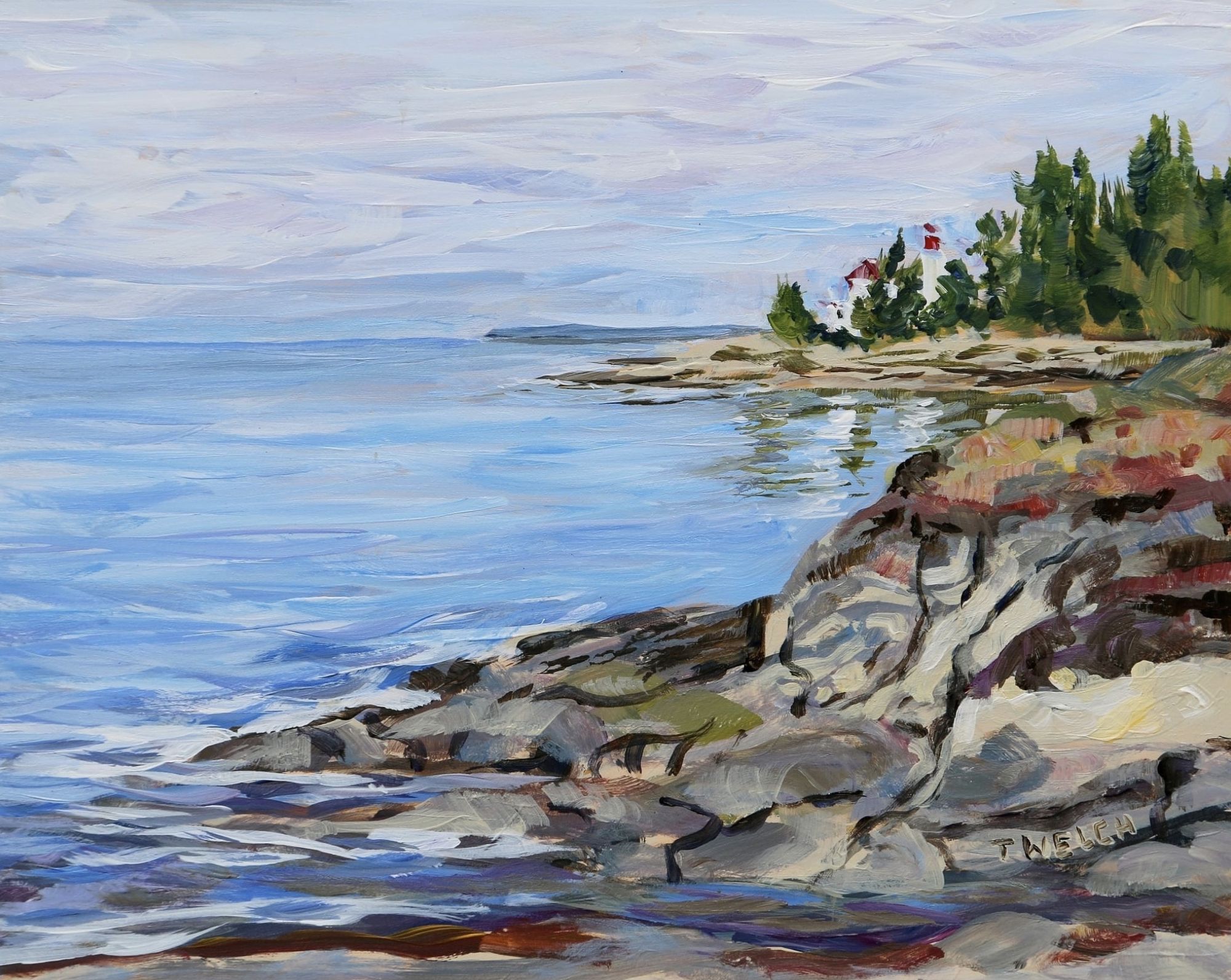 Artist notes: The evening light curled around the sandstone rocks as my brushes worked their way across the view. Cotton Park looking across the Straight of Georgia is an easy place to be and particularly so on an endless summer in July kind of day. Mayne Island, British Columbia, Canada.
And secondly, remember that painting I was going to work on and I said, if you kept reading along, I would tell you what happened? Well, it is done. And totally out of the blue and unexpectedly, it is also sold. Still wet. With the paintbrush in my hand and yet to apply the last brushstroke. Sold!
I am going to be able to keep it for a week while it dries and then, it will be off! Some paintings are just like this, not even a backwards glance before they skip out the door.
Sold - "Liminal Time in Active Pass" by Terrill Welch, 16 x 20 inch oil on canvas.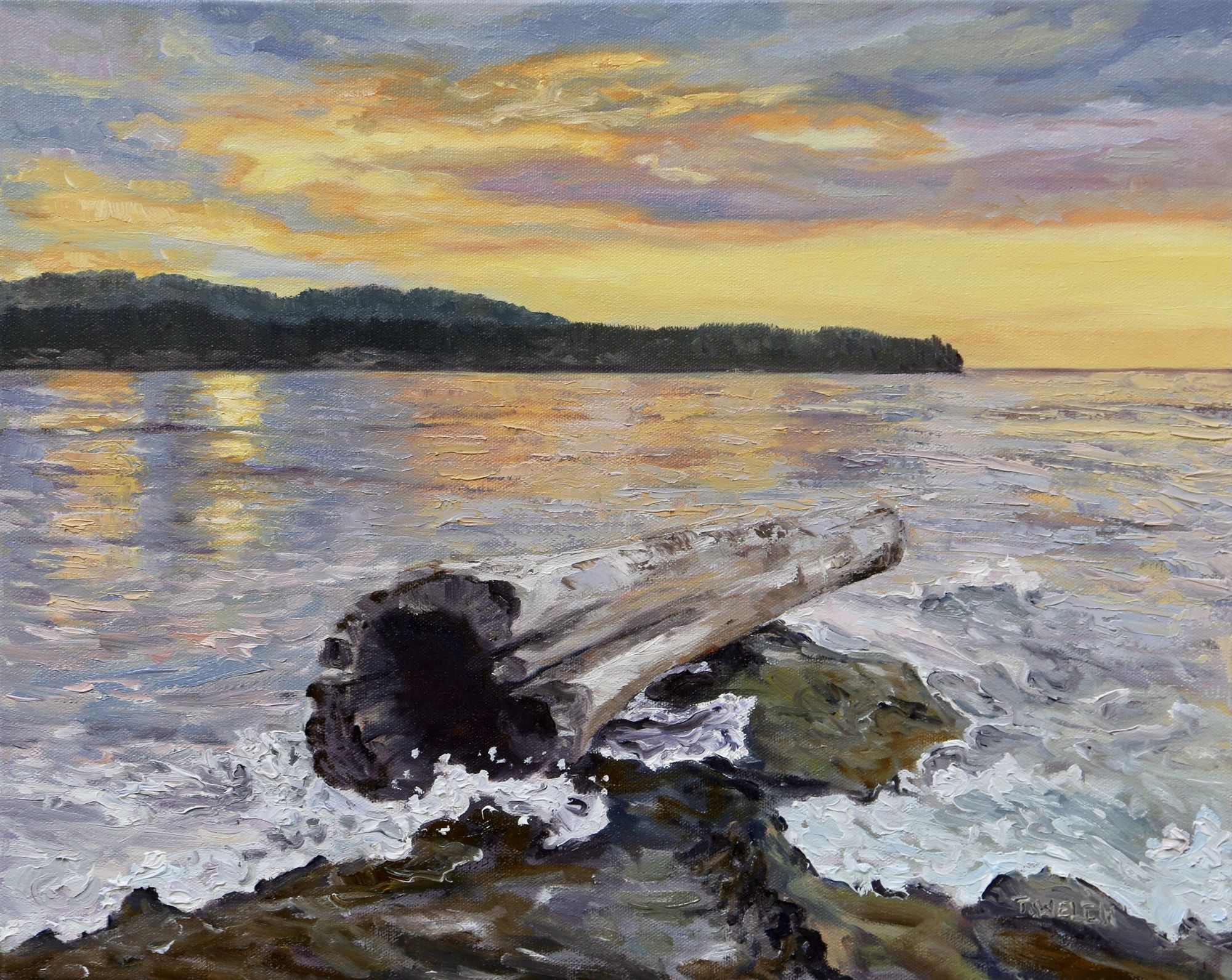 Artist notes: There are times when we are more aware than others of being neither here nor there. When this happens, a space opens up for us to cradle the unknown and rock back and forth against the pervasiveness of uncertainty. This is one of those moments.
Since it is like most of my work and has a totally different experience with just a little distance, I am including a room view as well.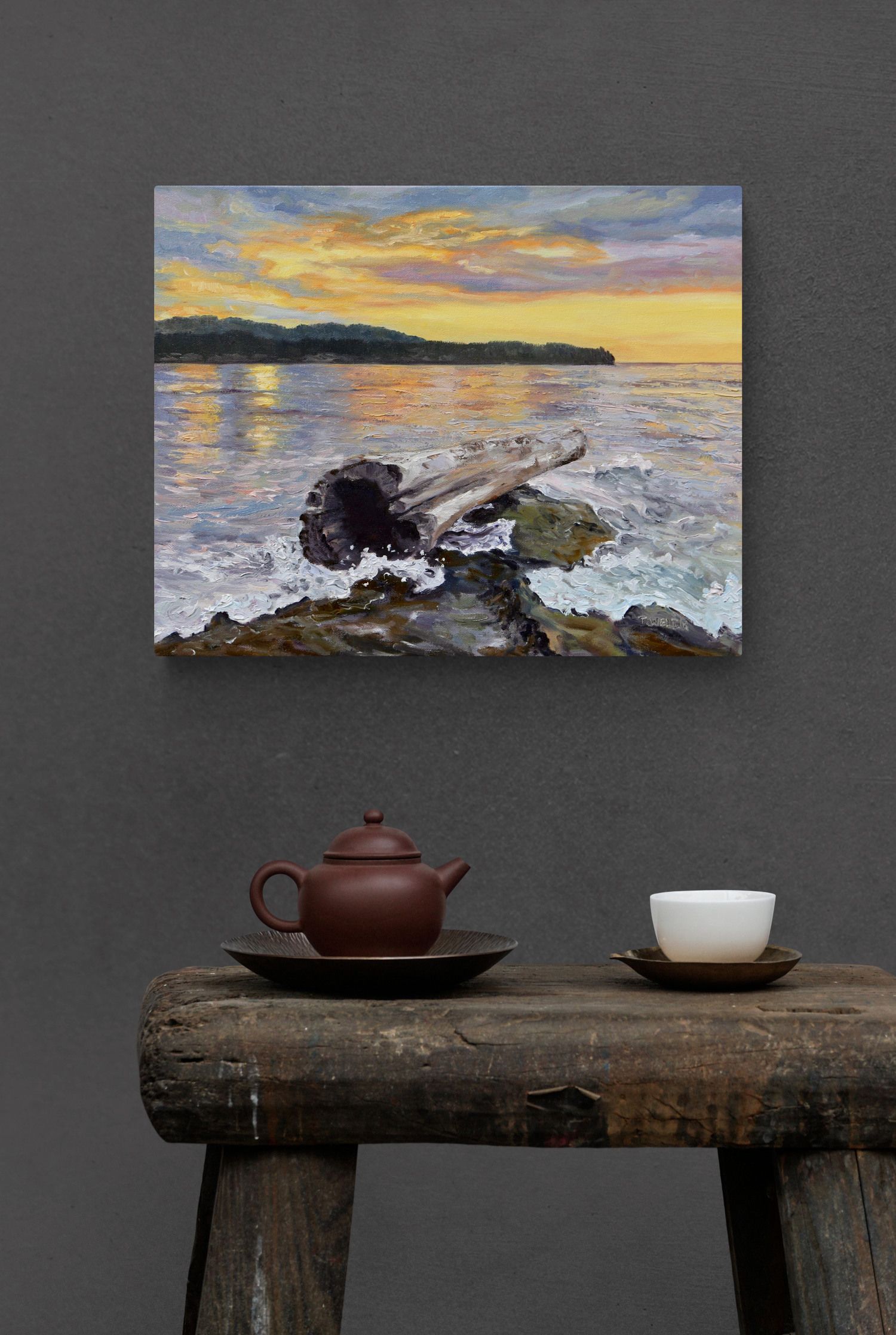 New Business Card!
We now have an elegant functional business card for our current times. On the front is a QR code for the online gallery website.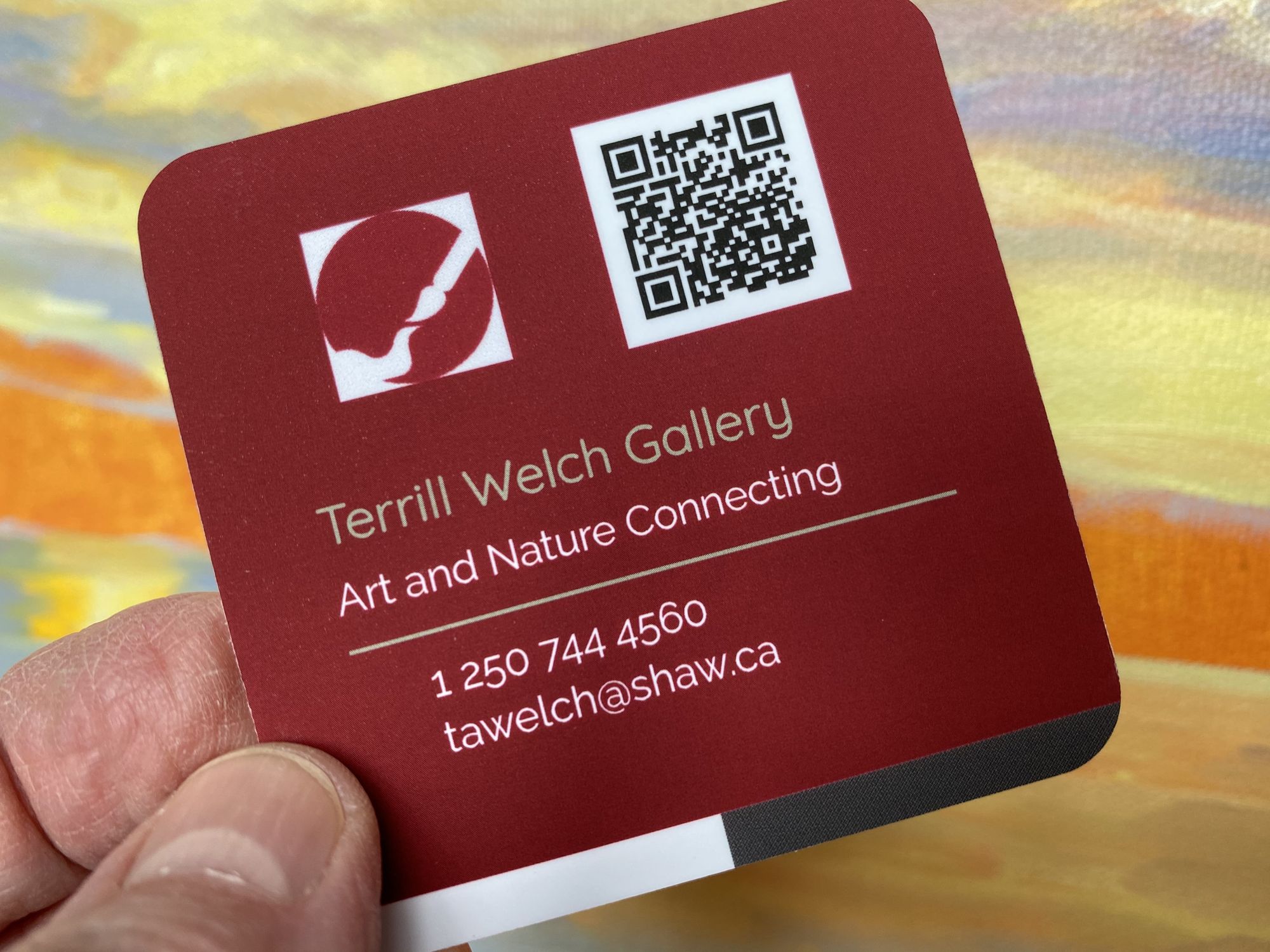 On the back is the QR code to sign up or read the newsletter.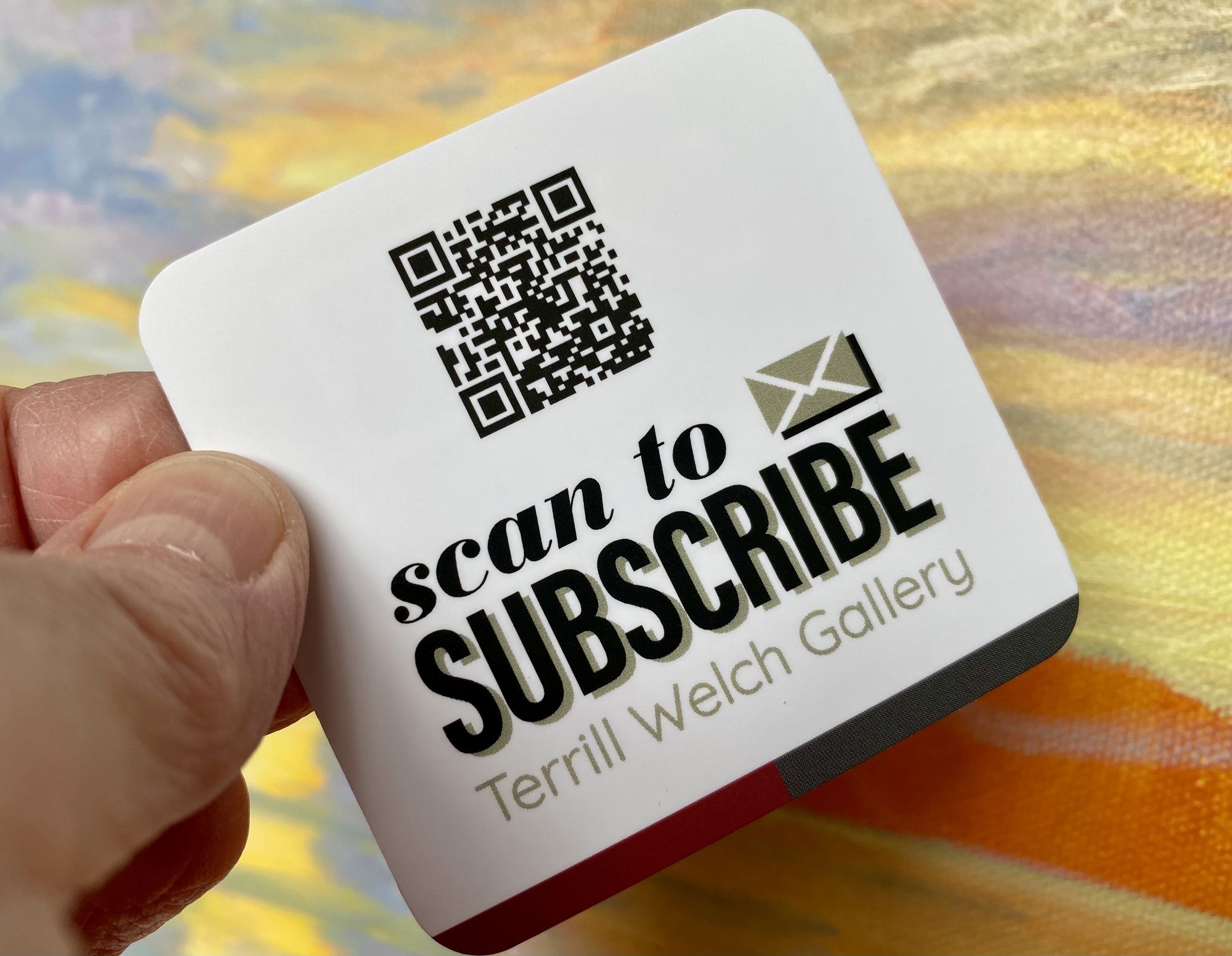 If you haven't used a QR code before it is really easy and you can try it right now if you are viewing this on your tablet or laptop and have a reasonably new smart phone. Here is what you do, pick up your phone and got to the photo app. Point your phone at the image of either side of the business card. There is little square corner markers that come up and then you will see a pop up box at the top of the image that will have the website link that is on that side of the business card. Open the link and you are set!
This will be particularly handing when in person visitors start coming to the gallery rooms again. There will be no more need for a guest book to sign up for the newsletter. I will have the business card set out so that people can use their phones to read the QR code and sign up directly. A perfect no touch system!
Please note: the background painting does not come with the new Terrill Welch Gallery business card. This requires a separate purchase. The business card, with its fancy new QR codes, is however complementary. 😉
Until Next Time!
And this brings us to a close for now. May you find moments that fill you with hope and possibility as we move forward! Thank you as always for your interest and support! All the best from The Terrill Welch Gallery and our artists.... until next time!
~Terrill 👩‍🎨🎨❤️
Our gallery program brings extraordinary connections to ordinary moments in our natural landscape. The Terrill Welch Gallery opened in August 2017. Since then, the gallery has more than doubled its physical gallery exhibition space and online reach.